Children of Morta
Dead Mage is a North American developer studio founded in 2010. They have developed many well-known titles for computers and consoles, including games such as: Shadow Blade, Garshasp: The Monster Slayer and Tale of Ronin. Together with the publisher "11 Bit Studios", which are known for games like Frostpunk and This War is Mine, they have released Children of Morta.
The Story beginns
Our adventure begins with a beautiful story, in which we can play with up to six family members of the Bergsons family. This family is speciel, because all members are heroes who have to face against the forthcoming Corruption. Each member has its advantages and disadvantages, the classes also differ and when you die, the story sequences change every time, which brings good variety to the game.
Roguelike elements with RPG gameplay
Roguelike games are becoming more and more popular and more and more developers are concentrating on this genre, most of them follow certain patterns, but mostly only score with a fairly straightforward gameplay consisting of levels, unlocking new weapons and tiling to tiling movements. Only few games tell a compelling or profound story, Children of Morta makes an exception here and tells a very well written Story.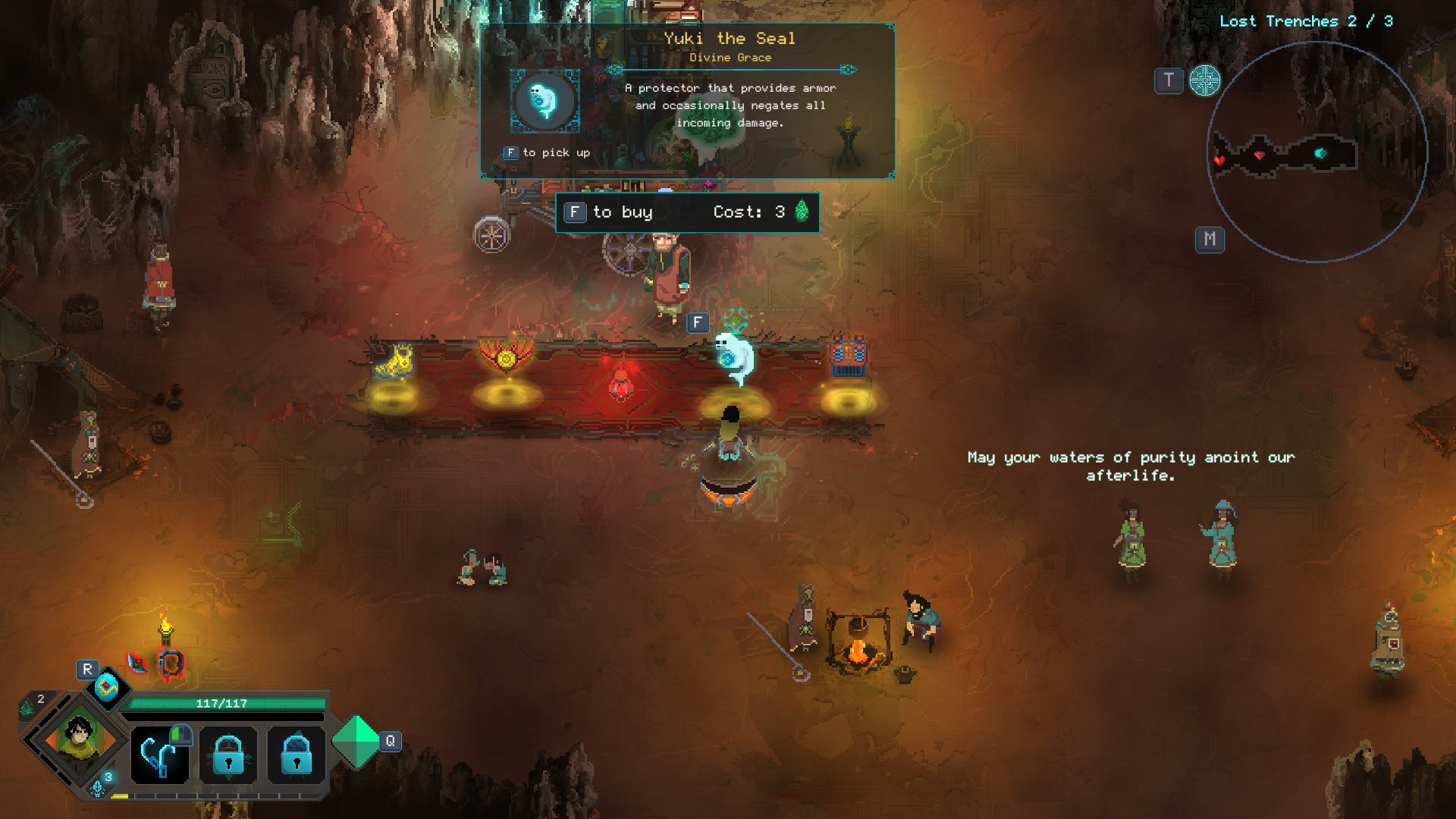 During our adventures, we are accompanied by a narrator voice that tells us a lot about the past and the upcoming. We have a total of four different areas to explore, which are divided into forest, cave, desert and industrial level areas where we have to find certain items in randomly generated levels to advance in the story. Here we also have to defeat countless different opponents, which definitely don't make it easy for us.
If we are not fighting or in one of the four areas, we can do different things in the Bergsons family estate, such as examining and using the different rooms or talking to our family members.
Combat system and opponents
Unlike most Roguelike titles, we do not play from tile to tile while fighting, but much more like with Diablo and Co. without restrictions, that means we choose a member and can use it, for example, in the dungeon (cave ) fight freely and run away at any time. If we are traveling with several members, we can also switch at any time and thus benefit from both sides.
Each member also has their own skill tree that can be upgraded at levels while we can spend coins on attributes and knowledge. So we are able to give each member different skills that fit his class better. There are passive as well as active skills.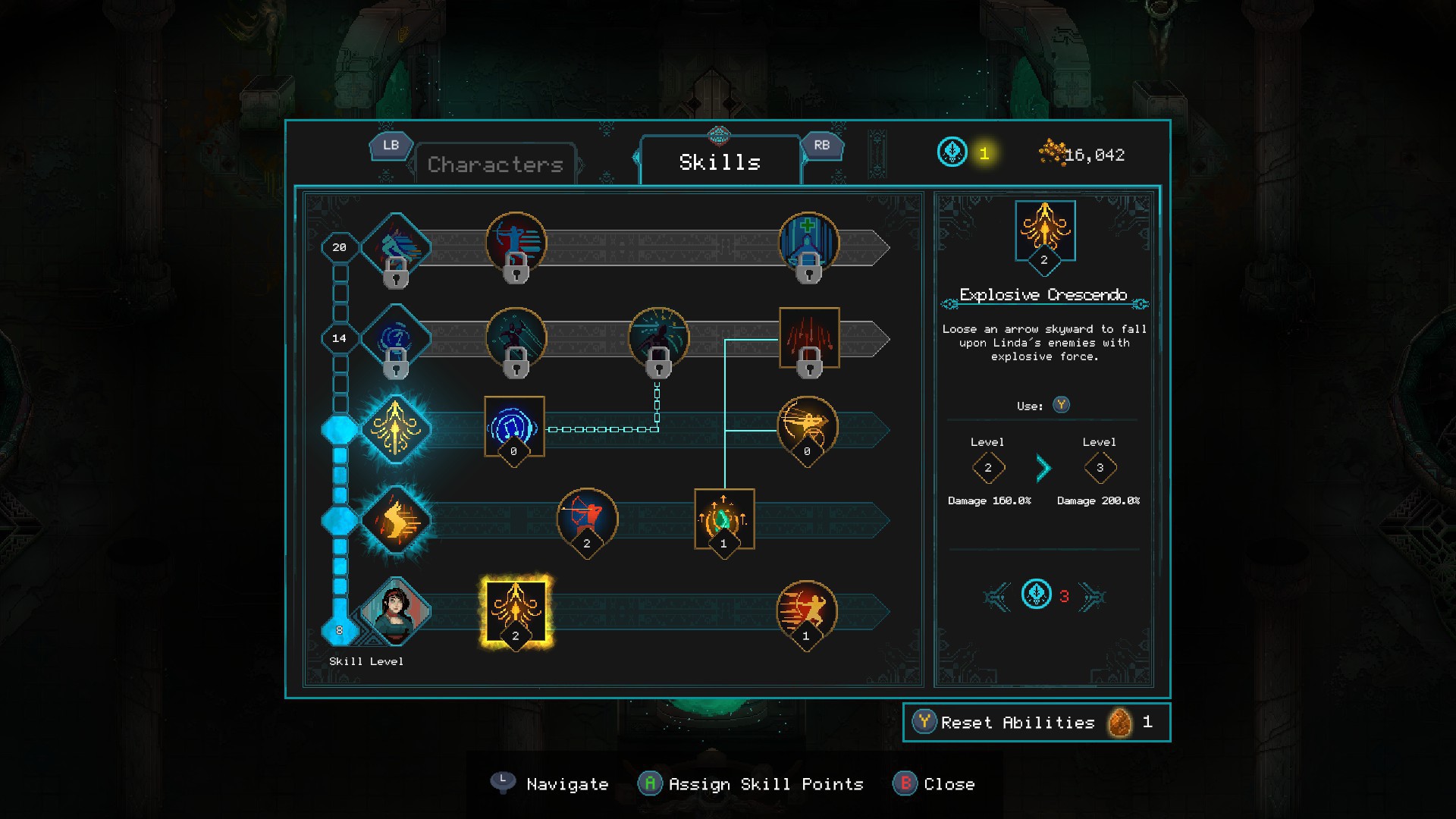 The opponents usually attack in paws and offer sometimes a hard challenge, especially at the beginning of the game, this can be a bit negative if you die several times in the first dungeon and then have to play it again over and over, because too many monsters attacked you and there is no medikit and the health regenerates itself very slowly. In addition, the opponents in the areas are also much tougher than the final bosses in each area.
Great pixel art graphics, not fully exploited
Children of Morta offers a really great pixel graphics, with very beautiful mystical places, unfortunately this is quite repetitive due to the level areas and also the opponents who come in scratch are a bit monotonous. Here you just want more variety, because the potential is there and you can see that in the first minutes of the game.
Switch Modis:
Best way to play this great Game on your Switch is the Handheld Mode, it fits very good holding your Switch in your hands and playing Children of Morta on your couch, bad or car. The graphics are great and the controller fits well. If you have the possibility to use the TV Mode, just do it, you will see a lot of detrails much better because you have a lager screen, you will not get the a sharp graphic like on your Handheld mode but it looks still very great.

Tabletop mode works too but I would not recommend playing this mode, you will miss a lot of details because of the small screen and the more you put your switch away, the more you will miss. All three mode works without any issues, freezes or framedrops, so you are free to choose the one you like more without having any issues.
Trailer: