The last MX vs ATV game is already a few years old, so it was finally time to revive the game series and send it into the next round, with MX vs ATV Legends THQ wants to set new standards and hired developer Rainbow Studios for this.
Not only on two wheels
In MX vs ATV Legends you can not only control fat motocross machines, but also ride ATVs and UTVs through the bulky, muddy terrain and roll over. To help you get to grips with the racers, a comprehensive tutorial is available to teach you jumps, landings and other things that are important for mastering the tracks. The tutorial also unlocks the career mode, so you should play the stages.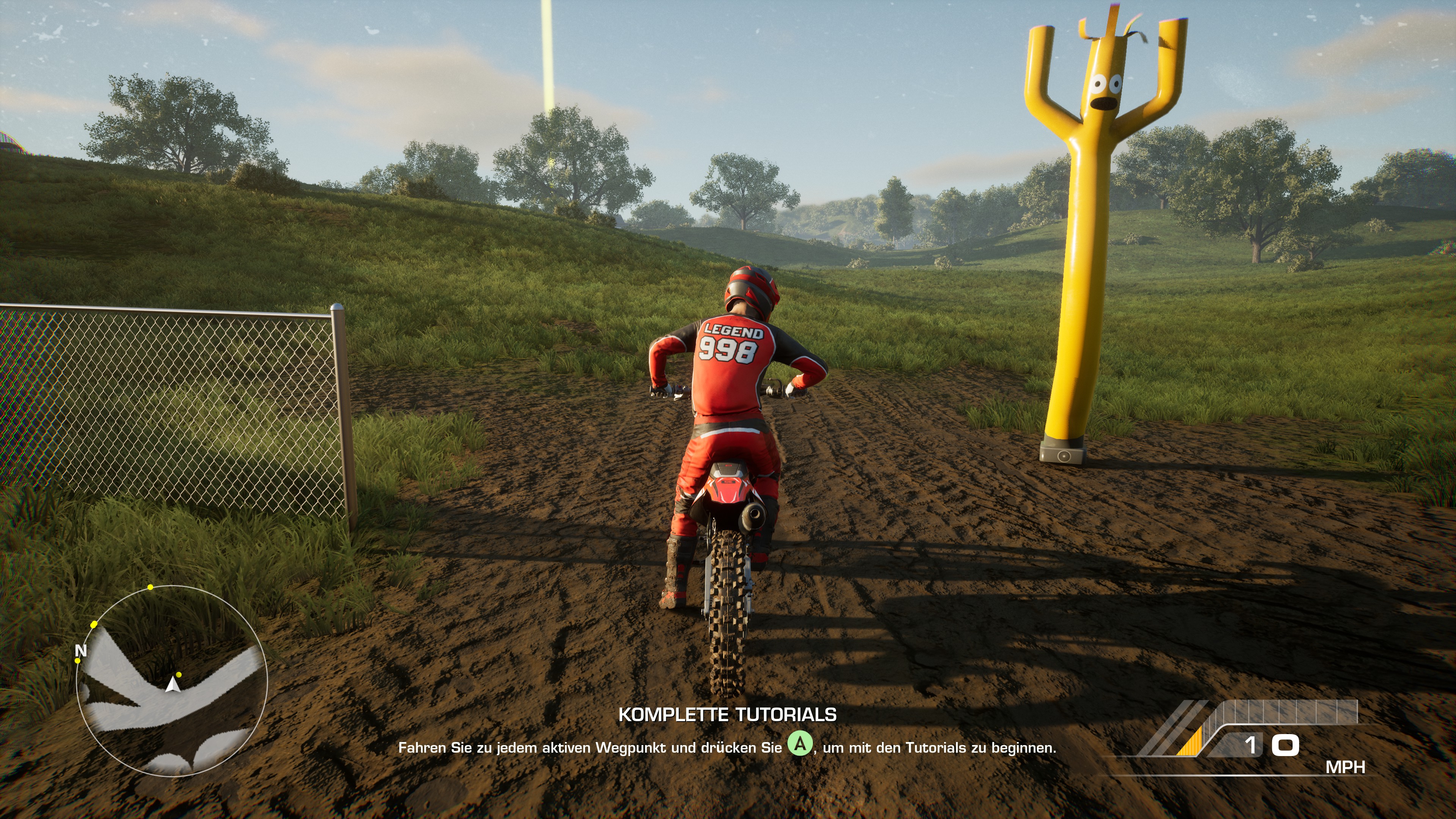 Semi Open World
The game world in MX vs ATV Legends is not open world, you can explore the game world quite freely and approach the tutorials, challenges, etc., but there are boundaries that you can't cross. Still, the beautiful and fascinating landscape with different terrains invites you to practice driving. Exploring is also fun, but it is clouded enormously by the rigid camera position, as you can hardly look around. In addition, there was no changeable weather in my entire test phase, which I could only experience in the career mode or in game modes that you could individualize. Speaking of game modes, if you don't want to sit out in the fresh air all the time or drive, you can also take part in Supercross in the hall or in various events, such as Supercross, National, Rhythm, Trails and Invitational.
Career mode and vehicles
In the career mode you have to show your skills and work your way up to become a champion, but the game doesn't make that very easy for you, because the career mode is quite hard and one mistake on the track already leads to everyone overtaking you and driving away. Here, MX vs ATV Legends hardly does anything better than in the previous parts. It's a good thing that this time you'll have nice NCPs at your side, who you'll get to know during the game and who will support you by offering their help, which you'll gratefully accept.  For example, the help of your own mechanic, who will help you turn your standard bike into a racing machine that will make your opponents eat dust, or better, dirt. Within the career you then unlock the ATVs and UTVs, which in turn can be raced in separate racing series. In career mode, you'll also be joined by sponsors who will support you with great gear and upgraded vehicles.
Local and online and the dear driving physics
You don't feel like playing alone? Then grab a buddy, your parents or siblings and play together locally in split-screen mode or online with up to 16 other drivers. The multiplayer is currently well used, but sometimes it can still take a while and you won't get every track full, but the servers have been running quite well so far. The driving physics, on the other hand, are okay, I've played much worse, such as the motocross Monster Energy series, but it still takes some getting used to, especially if you've never played the old parts of the series. However, the bike can be controlled quite well, even if not realistic, especially fans of arcade games will enjoy it. The animations when the driver falls off the bike are really silly, not to mention stupid.
Bugs and Day1 DLCs
Really annoying are the bugs in the game, which urgently need to be fixed, because currently there are often game crashes, invisible objects or obstacles and a lot of game bugs, which are really annoying and have no place in a full version. Worse than the bugs are the Day1 DLCs, while the main game offers hardly any vehicles, there are a lot of DLCs with which you can get new bikes in the game. I would understand it if the DLCs would have come gradually, but in the meantime there are already nine DLCs since the first day that cost almost twice as much as the main game itself, something like that is simply a no-go in my eyes.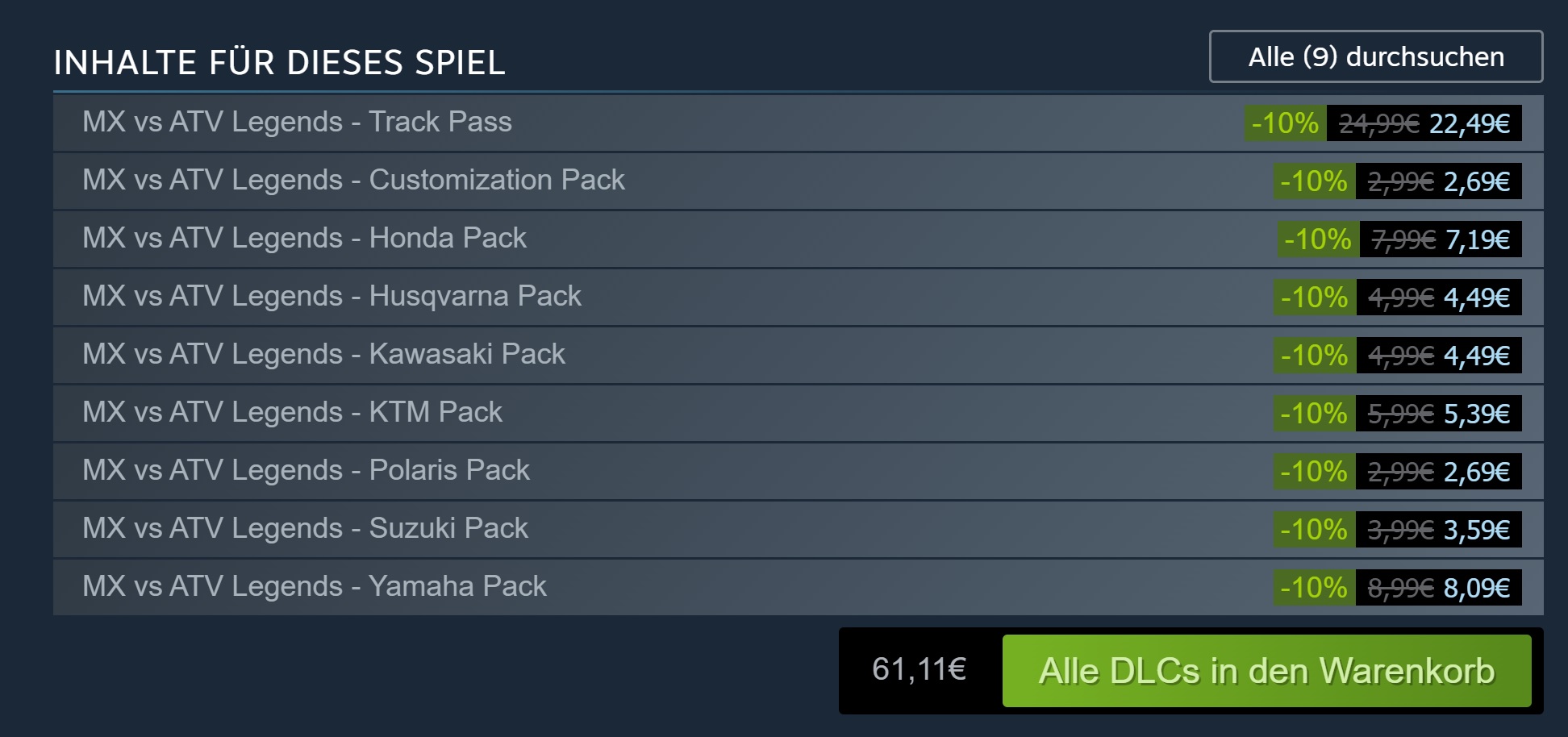 Trailer: