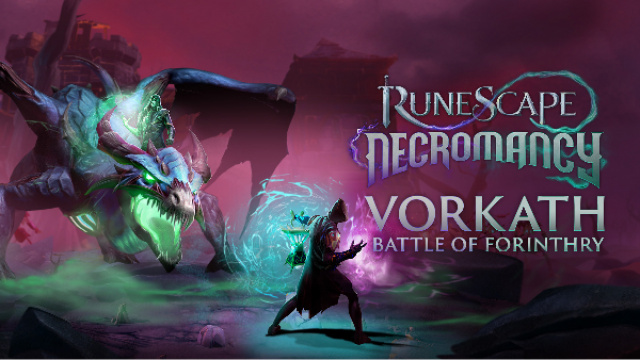 Vorkath Rises as the Battle of Forinthry begins in RuneScape 
Players will need to defend Fort Forinthry as the Necromancy Season continues 

Thursday, 20 November 2023, Cambridge, UK. Launching today in RuneScape is Vorkath: Battle of Forinthry, a multi-phase boss battle and the latest update for the fantasy MMORPG's Necromancy season.  
Players will need to prepare their forces in the Battle of Forinthry quest with the help of the iconic RuneScape hero, the Raptor. Then they'll defend Fort Forinthry in a multi-phase boss battle against the newly arisen Vorkath and his master Zemouregal.  With scaling difficulty and rewards, players can experience Vorkath: Battle of Forinthry either as part of a group or solo earning a earn variety of rewards including the coveted new Elite Dracolich gear completed with powerful infusions. 
In addition to the new quest and boss battle, players will also be able to unlock the Vorkath Death Guard and Lantern cosmetics overrides by completing tasks for the draconic professor Mr Mordaut during the Vorkath Hunt event. 
Necromancy is a stand-alone combat skill launched in August alongside a huge expansion which included a new hub area, nine brand new quests and two deadly boss fights. Necromancy   
is free for players up to level 20 and will scale to level 120 for RuneScape Members.  
 
For more information, please visit the RuneScape website.   
RuneScape is available now on PC, Steam, iOS, and Android, complete with cross-platform progression and play on PC and mobile.  
About RuneScape    
Celebrating more than twenty years of adventures and acclaimed by PC Gamer as "one of the most endearing and unique MMOs available", RuneScape is an ever-expanding, community-driven game that's bursting with activity and life. Today RuneScape is one of the world's longest-running online games, with over 300 million player accounts.  
Set in a medieval fantasy land, players embark on epic journeys through a vast sandbox world that's full of gods, warring races, unexplored dungeons, and glittering riches. Propelled by the game's narrative, choose your own path through enthralling quests, and progress through 28 diverse skills to shape a single character in a classless world. RuneScape is available across PC, iOS and Android devices.  
  

Become the hero you were born to be at www.runescape.com.    
About Jagex    
A leader in creating deep and engaging forever games that empower our communities across PC, mobile and consoles. Jagex's flagship MMORPG, RuneScape, has welcomed over 300 million player accounts to its world and is a $1billion + lifetime revenue franchise. Today the RuneScape franchise exists beyond live operations; our titles are forever games that connect and inspire millions of players, with content and experiences both inside and outside of inexhaustible game worlds. Both RuneScape and Old School RuneScape, on PC and mobile, offer ever-evolving, highly active worlds and our community-focussed development ethos empowers players to have a real say in how each game is shaped.  
  
in 2022, Jagex expanded with the acquisitions of PipeWorks and Gamepires, bringing its expertise in building forever games to SCUM, a multi-million selling open-world survival title in Steam Early Access & other unannounced titles. Jagex employs more than 600 people globally, and is headquartered in Cambridge, United Kingdom.