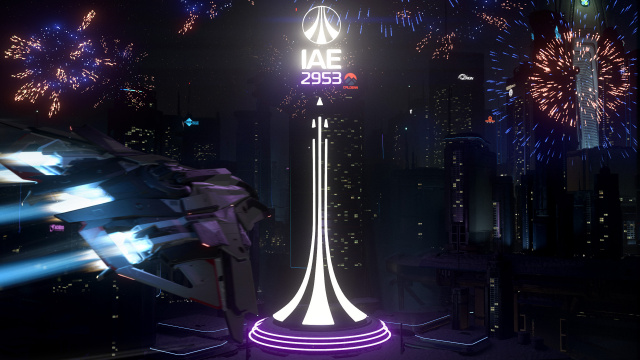 Star Citizen's IAE 2953 Takes Inspiration from Beyond the Stanton System with an Expanded Show Floor, Diverse New Ships to Pilot, and Free Flight for Over 130 Vehicles from Nov. 17-30
Who:
Cloud Imperium Games (CIG), developer of Star Citizen and Squadron 42, is a new kind of independent studio dedicated to delivering AAA games outside the established publisher system. Founded in 2012 by renowned game developer Chris Roberts, CIG is shifting the paradigm of game development towards a more inclusive process, offering its global community an unprecedented level of visibility and engagement by granting ongoing access to a product in active development.
What:
Citizens from all corners of the Stanton System are invited to the premier aerospace event in the galaxy, the annual Intergalactic Aerospace Expo (IAE), returning to New Babbage, microTech, from Nov. 17-30! A celebration of all ground, air, and space vehicles, their manufacturers, and the important roles they perform for the United Empire of Earth, IAE 2953 highlights the limitless possibilities that a life in the stars can hold. With the largest number of exhibitors and biggest virtual show-floor presence ever and free access to Star Citizen through Nov. 30, this is expected to be the largest and most attended IAE yet! 
As select pilots boldly took their first steps into the Pyro system, this year's celebration holds new meaning in the face of unknown threats and opportunities. Ensuring that pilots will be best equipped to face their journeys, manufacturers Gatac, Tumbril, Crusader, and Argo will showcase their latest and most advanced ground and space vehicles, all immediately flyable in-game. There will be plenty of activities for attendees to participate in throughout the show including new immersive exhibitions that showcase a variety of gameplay professions and daily challenges for new pilots to try find their calling in the 'verse.
Be sure to visit the expanded show floor each day for a fresh set of displays and flip through the IAE 2953 Official Program, available online, for a daily mixture of event information and news from throughout Stanton. 
With free access to download, play and fly over 130 ships through Nov. 30, weeks of events, activities, and reveals, and a lively content update on the horizon, there's never been a better time to fly in Star Citizen!
Highlights for this year's Star Citizen IAE 2953 event include:
Play for Free from Nov. 17-30

: Download and play Star Citizen for free during IAE 2953.
Test-fly Over 130 Ships in Star Citizen for free!

See

the Latest Vehicles from the Top Manufacturers in the 'Verse:

Pilots can stop by the show floor each day to discover the next addition to their hangars. IAE will see a fresh display of vehicles from top manufacturers daily showing off their latest in vehicle technology, with ships shown the day before moving to a second hall for additional viewing

.

New Tutorials for New Babbage:

Veteran pilots in need of a refresher and new pilots entering the 'verse for the first time can get the basics of life in Stanton with newly added tutorial missions on New Babbage, microTech. These missions will set players up for their first test flights with rover 130 ships available to fly for free during the event!

Discounted Starter Pack:

Pilots can continue their adventures following the IAE 2953 closing ceremonies with two starter packs granting full account privileges permanent access to Star Citizen, discounted for the duration of the event. Choose from bundles granting the newly added Gatac Syulen, a versatile alien hauler, or the Consolidated Outlands Mustang Alpha, a sleek fighter with some surprising cargo space, both ideal ships for starting a new life in the 'verse.

The Gatac Syulen Brings Sleek Alien Styling:

Once a unique curiosity, alien-made or inspired ships have seen a recent uptick in popularity on the human market; enter Xi'an manufacturer Gatac's versatile Syulen vessel. Available for flight immediately, including for new players after completing their tutorial experience, the Syulen merges distinctive alien styling and technology with practical performance across combat, cargo, and exploration gameplay.

More Flyable Vehicle Launches and Surprises:

Manufacturers will be launching new flyable and drivable ships throughout the event as their day on the main show floor arrives. Expected releases include the 

Argo SRV

, a rescue and recovering vessel with powerful ship-based tractor beams,

Crusader's C1 Spirit

versatile cargo transport vessel, and the

Trumbril Storm

, a light assault tank that delivers ground-based precision firepower leveraging its high mobility to evade attackers. Rumors continue to spread of another vessel to be revealed during the show, however company representatives have declined to confirm this.

A Show-ending Extravaganza of Events: 

The final days of the event will be a celebration not to be missed. Starting Nov. 27, pilots will have a host of activities they can participate in including Fleet meet-ups, PVP events, screenshot competitions, racing events, and more.
When:

The Intergalactic Aerospace Expo 2953 begins on Nov. 17 and will run through Nov. 30. For more information on IAE 2953 and an event schedule, check out the official website here.
Where:
IAE 2953 is hosted in New Babbage, on microTech. New pilots can sign up and enjoy the free access to Star Citizen during this year's event here.
For further information, including how to download and play Star Citizen, visit the official website. Enlist today and join this ever-expanding universe by visiting the game's Welcome Hub and Guide System for tips on how to play. Keep up to date with Star Citizen development via the game's Progress Tracker and roadmap. Millions of players from around the world have already joined to help CIG build the most ambitious game ever made. For continued updates, follow Star Citizen on Facebook, Instagram, Twitch, Twitter, and YouTube.