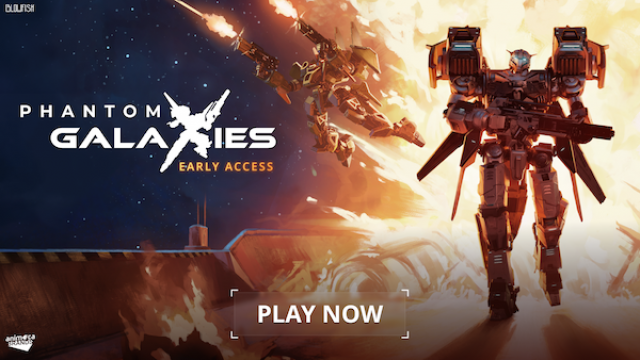 Mecha Action-RPG PHANTOM GALAXIES™ is out now in Early Access, bringing AAA multiplayer mecha action to Steam and Epic Games Store
Animoca Brands' subsidiary Blowfish Studios today launched PHANTOM GALAXIES™ in Early Access today

15 November 2023 - In case you missed the news, Blowfish Studios, a subsidiary of interactive entertainment company Animoca Brands, just launched its mecha
space opera PHANTOM GALAXIES™ in free-to-play Early Access for PC. PHANTOM GALAXIES™ is available now on Steam, the Epic Games Store, and the official website.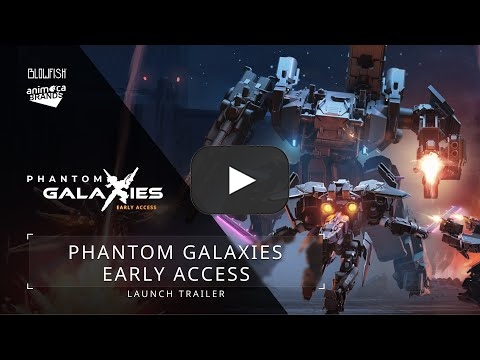 PHANTOM GALAXIES™ is an expansive online multiplayer sci-fi action-RPG set in a vast and immersive universe, featuring thrilling mecha combat, sprawling, picturesque galaxies and handcrafted locations, and diverse gameplay and storylines.
An interstellar war has brought the intergalactic empires of the Commonwealth and the Union together to form the Ranger Squadron — a unit of elite mecha pilots devoted to protecting human colonies on the frontiers of known space. Players will become elite pilots of transforming mechanized Starfighters to defend against the incursions of ruthless pirate and alien factions, from the scavenging Junkers and paramilitary Brooksea to the reviled Xanorra and vicious Sha'har zealots.
In PHANTOM GALAXIES™, players can create unique characters, customize their transforming Starfighters to suit their playstyle, engage in high-intensity combat in space or on the ground, and secure strategic locations to defend humanity's territory. Players can fight alone or team up with other pilots online. Player freedom is a core aspect of the game, with a variety of mecha types to choose from — specializing in close, medium, or long-ranged combat and fully customizable to focus on offense, defense, or both.
"I can't begin to describe our excitement today as we launch Phantom Galaxies — our biggest and most ambitious game yet," said Ben Lee, co-founder of Blowfish Studios. "Our world-class developers have created a thrilling AAA action-RPG that is a labor of love for all of us at Blowfish Studios and Animoca Brands, and we're very proud to introduce it to gamers worldwide."
PHANTOM GALAXIES™ Gameplay Features:
Tactical Transformation Combat – Switch between third-person mech combat and starship dogfights with the press of a button. Prioritize your Starfighter for speed or firepower at a moment's notice.
 
Multiple Mecha Classes – Choose between four distinct Starfighter classes - the versatile Assault, precise Lancer, brutal Buster, and vicious Breacher, each with unique abilities and a diverse range of weapons and mech parts.
 
A Rich Universe – Fight across the expansive Canis Major Galaxy, hurtling through the reaches of space and handcrafted planet-side locations. Uncover the history and lore of the universe to unravel ancient secrets.

 
Solo and Multiplayer Action – Complete a wide variety of missions alone or with other players, including an enthralling and cinematic main storyline, side quests filled with memorable action and characters, PvP multiplayer battles, PvE multiplayer bounties, and more.
 
Choose Your Path – Level up through RPG-style tech advancement, hone your skills, upgrade your Starfighter, and choose between the paths of heroism and ruthlessness.
PHANTOM GALAXIES™ is available today, 15 November 2023, on PC in Early Access; the game is free-to-play and available on Steam, the Epic Games Store, and the official website. PHANTOM GALAXIES™ features language support for English, Russian, Spanish, German, French, Japanese, and Simplified Chinese. To learn more about PHANTOM GALAXIES™, visit the official game site, follow the game on Twitter and Instagram, join the community on Discord, and watch the latest videos and streams on YouTube and Twitch.
About Blowfish Studios
PHANTOM GALAXIES™ is developed and published by Blowfish Studios, a Sydney-based subsidiary of Animoca Brands. The game will deliver unparalleled galactic combat mecha gaming, and Blowfish Studios and Animoca Brands are working together closely to leverage their combined expertise and resources to ensure a captivating experience for gamers. With its proven track record and industry partnerships, Blowfish Studios pushes the boundaries of video game development and publishing. Fans and gamers alike can look forward to more exciting and groundbreaking titles from this innovative game studio. Learn more at https://www.blowfishstudios.com.