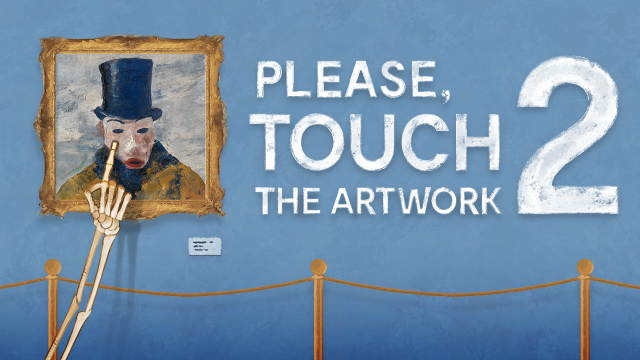 Help a lost skeleton painter find his way back home and collect hidden objects for the quirky inhabitants of James Ensor's hand-painted universe. Coming to PC & Mobile early next year.

16 NOVEMBER, 2023 – Solo developer Thomas Waterzooi is excited to announce Please, Touch The Artwork 2, the spiritual sequel to his award-winning cozy puzzler.
The game continues the tradition of immersing players in the captivating realm of a renowned modern artist. This time, embark on a journey through the iconic paintings of James Ensor.
Interact with Ensor's art in an engaging hidden object adventure, reminiscent of the beloved 'Where's Waldo/Wally?' concept, allowing players to uncover the deeper layers of his magnificent works.
Please, Touch The Artwork 2 will be available early 2024 to anyone with a smartphone/tablet (Apple Appstore, Google Play) and on Windows/Mac (Steam).
​​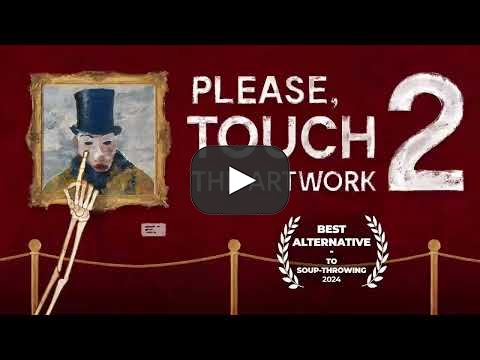 ---
About the game
Assist a wandering skeleton artist in navigating a surreal, hand-painted universe, while collecting hidden objects for its quirky inhabitants. ​Solve casual puzzles and fix gaps and cracks in the paintings. Carefully crafted from works by James Ensor, a Belgian pioneer in the world of Modern Art.
Key features
Explore 4 unique worlds - Embark on a journey through four distinct worlds, each brimming with the mesmerizing art of James Ensor. Discover hidden treasures and unravel the mysteries within his famous paintings.
Hints when stuck - Stuck on a particularly elusive object? No worries! Players can request hints to nudge them in the right direction. This ensures a frustration-free adventure, allowing you to seamlessly continue your exploration.
Simple point & click controls - Navigate the world by clicking or tapping where you want to move. The intuitive controls make it accessible to all types of players. Take advantage of the zoom function to delve into every intricate detail.
Casual hand-painted art - Interactive elements and animations made from James Ensor's authentic hand-painted works bring his masterpieces to life.
Atmospheric relaxing sound - Let the immersive atmosphere and tranquil soundscapes wash over you as you delve into Ensor's world. The combination of real art and calming audio creates a mesmerizing experience.
Highly accessible - With a light-hearted and playful approach, "Please, Touch The Artwork 2" is a delightfully cozy adventure suitable for almost everyone.
---
About Studio Waterzooi
Studio Waterzooi is the one-man company behind Thomas Waterzooi. Thomas previously worked on Divinity Original Sin (Larian Studios) and Hitman (IO-Interactive) before becoming a solo indie developer in 2018. He focuses on making accessible interactive stories and playful games inspired by art, culture, society & human interest.
His games are not about skills or high scores. They are about relaxing, reflecting, playful tinkering, and being sucked into the story and aesthetics (nowadays also often referred to as "wholesome"). His first big solo project "Please, Touch The Artwork" has received several awards and international nominations. ​

​https://www.studiowaterzooi.com/ ​
​
Copyright © 2023 Studio Waterzooi, All rights reserved.