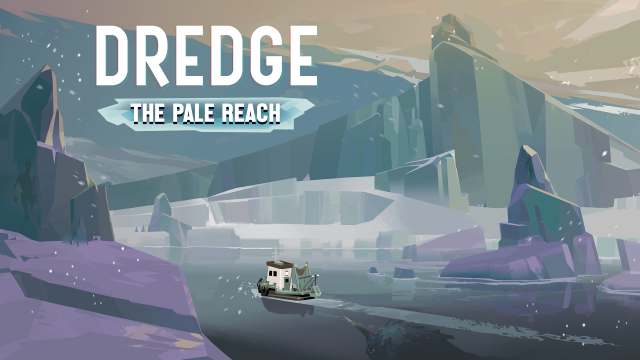 DREDGE REELS IN DEBUT EXPANSION 'THE PALE REACH' TODAY  
Fully defrosted and ready to set sail on all platforms, explore a frozen frontier now and uncover its sinister secrets. 

Thursday, 16th November 2023 – Black Salt Games and Team17 Digital have today launched 'The Pale Reach', the first expansion to the multi-award-winning indie fishing adventure DREDGE, on Steam, GOG, Nintendo Switch™, PlayStation®4, PlayStation®5, Xbox Series X|S and Xbox One consoles for £5.99/$5.99 US/€5.99. 
In DREDGE: The Pale Reach, players can explore a brand-new biome in the world of DREDGE which will require additional equipment, including the new and formidable 'icebreaker' attachment, to break through its frozen bergs. Players looking to uncover all the secrets of The Pale Reach will need to trawl its freezing depths and traverse its crystalline canyons while following in the footsteps of a doomed expedition lost to time. Avid oceanographers will also be able to cast a line or drop a pot to hunt 11 new fish and crab species and their aberrated counterparts while purchasing blocks of ice to help prolong the value of their most valuable catches.  
 
From today, Steam players looking to add even more flair to their fishing in DREDGE can enable Razer Chroma™ RGB and help bring dynamic lighting to even the darkest expedition out on the open seas. 
DREDGE's second paid expansion, 'The Iron Rig', is set to arrive in early-2024. 
  
Unravel a Mystery: Captain your fishing trawler across a collection of remote islands, each with its own inhabitants to meet, wildlife to discover, and stories to unearth   

Dredge the Depths: Scour the sea for hidden treasures and complete quests to gain access to strange new abilities, including the camera to unlock the new Photo Mode 

Study Your Craft: Research special equipment and upgrade your boat's capabilities to gain access to rare fish and valuable deep-sea curios   

Fish to Survive: Sell your discoveries to the locals to learn more about each area, and upgrade your boat to reach even more secluded locations   

Fight the Unfathomable: Strengthen your mind and use your abilities to survive trips out on the water after dark. 

About Black Salt Games

Black Salt Games is a small indie studio from Christchurch, New Zealand driven by a love for video games. The team's debut title DREDGE and first paid expansion DREDGE: The Pale Reach' are available now on Steam, GOG, Nintendo Switch, PlayStation 4, PlayStation 5, Xbox Series X|S and Xbox One. Visit www.DREDGE.game for more information.  
About Team17 Digital 
Founded in 1990, Team17 Digital is a leading developer, video games label, and creative partner for developers around the world. Part of Team17 Group plc, which floated on AIM in 2018, Team17 Digital has an extensive portfolio of over 120 titles, and fully encapsulates the spirit of independent games. Winner of the 'Publishing Star' award at the 2023 Develop: Star Awards, Team17 Digital has assembled a portfolio of multi-award-winning and award-nominated in-house brands include Hell Let Loose, Golf With Your Friends, The Escapists, and the iconic Worms franchise, alongside its games label partner titles, including the award-winning games Blasphemous, Greak: Memories of Azur, DREDGE, and the Overcooked! franchise. Visit  www.team17.com for more info.  
 
Nintendo Switch is a trademark of Nintendo. 
"PlayStation" and "PS5" are registered trademarks or trademarks of Sony Interactive Entertainment Inc.