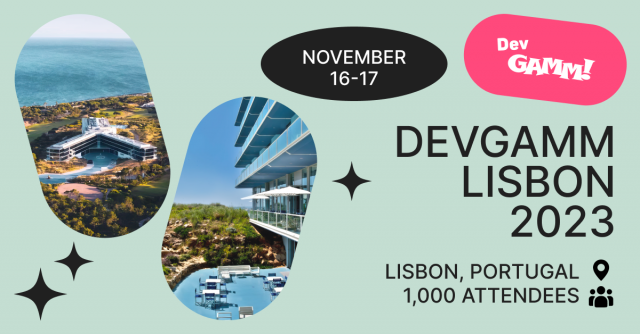 DevGAMM Lisbon 2023 UnveilsFull Speaker Lineup and a Thrilling Showcase of Games
International Game Development Conference Promises Unprecedented Heights with Over 40 Expert Speakers, Vibrant Game Showcases and Inaugural Indie X Awards Ceremony in Lisbon

Lisbon, Portugal – November 15th, 2023 – DevGAMM has unveiled the stellar lineup of speakers and the comprehensive conference schedule for its highly anticipated 2023 edition in Lisbon on November 16-17th. Over 40 industry experts from the video game realm are set to deliver engaging talks spanning 11 diverse tracks. The renowned international game development conference will transform the captivating city of Lisbon into a hub of creativity and innovation. Hosted at the opulent Oitavos Luxury Hotel in Cascais, Portugal, this inaugural event promises an unforgettable experience against the stunning backdrop of the Atlantic Ocean.

In a thrilling collaboration, DevGAMM Lisbon 2023 has joined forces with Indie X, Portugal's foremost indie game showcase, propelling the event to unprecedented heights. Each day of the conference will be adorned with a vibrant Game Showcase, presenting a diverse array of both Portuguese and international games. Among the titles are Bloomtown: A Different Story, ARC SEED, Crab Raid Tactics, dEmpire of Vampire, Kurofune: Descobrimentos Portugueses, The Ecosphere Project, Birdspotting, Mahou Senshi Cosplay Club and an array of other captivating games that will command the spotlight. Explore the full list of showcased games here.

Adding an extra layer of excitement, the Indie X Awards Ceremony is set to unfold within the vibrant atmosphere of DevGAMM Lisbon. Get ready to meet the finalists and witness the pinnacle of indie game recognition. Preview the finalists here. DevGAMM Lisbon 2023 is poised to be an unparalleled convergence of industry expertise, creativity, and celebration, making it a must-attend event for gaming enthusiasts and industry professionals alike.
"We are looking forward to welcoming a talented group of video game professionals and peers to Lisbon this year for our first-ever DevGAMM in this beautiful location," said Lerika Mallayeva, CEO & Founder of DevGAMM. "As we celebrate the 15th anniversary of the conference we hope that our attendees will feel like taking part in a mesmerizing retreat while enjoying top-notch content."


The conference will host a selection of keynote speakers, including Warren Spector, Studio Director at OtherSide Entertainment who will talk about how to clearly determine what you do, why you do it, and of course how you do it everyone at your studio. Jonathan Blow, President at Thekla, Inc together with Tiago Loureiro, Technical Director at Kokku will host a FIRESIDE CHAT where they will discuss the Future of Software Development in Video Games. Gabby Llanillo, QA Supervisor at Riot Games will talk about embedding and empowering QA. Ilari Kuittinen, Managing Director at Housemarque will discuss various aspects of strategic decision-making that an independent studio faces.

Joining these speakers will be Dennis Micka, Senior Game Designer at Guerrilla, who will discuss the creation and iteration process of Horizon Forbidden West's Cauldrons, from concept to finish. Moritz Lehr, Senior Quest Designer at CD PROJEKT RED will touch on lessons from traditional storytelling before diving into the unique challenges and opportunities of interactive media. Sarah Beaulieu, Narrative Director at Ubisoft will focus mostly on best personal practices in writing to integrating dialogues. Linda Komsic, Senior QA Manager at Square Enix will go over the QA services within Square Enix in the West as well as some strategies, planning, and challenges faced while testing the Life is Strange games over the years. These talks will be accompanied by many others as well as several panels addressing topics ranging from tech and user acquisition to education, music and the need for juniors in the industry.