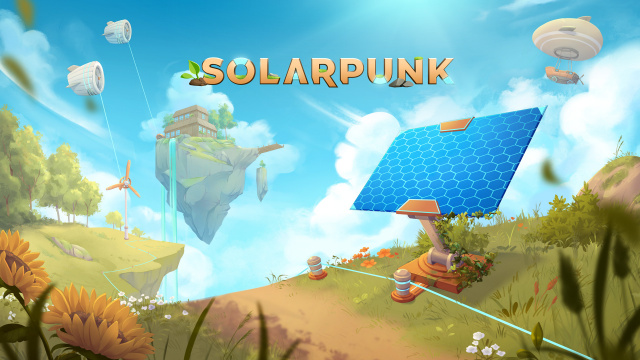 Beautiful cozy survival crafting game Solarpunk coming to PC and consoles
Build your own sustainable habitat on a new world of floating islands!
Darmstadt, Germany, May 30th, 2023 - Publisher rokaplay, in partnership with the developer Cyberwave, has launched a Kickstarter campaign for their upcoming cozy survival craft game Solarpunk. Planned for a Steam Early Access launch in 2024 with PlayStation, Xbox, and Switch versions to follow, the new Kickstarter campaign allows players to get in on the ground floor of this unique futuristic survival experience.

Solarpunk is a survival game set on a technically advanced world of floating islands, where you must use sustainable technology to craft a self-sufficient ecosystem. Alone or together with your friends in co-op, you'll have to use sunlight, wind and water to create an energy system and automate your processes like gathering resources and watering your plants.


Customize your own airship and solar sail your way through the skies to explore distant islands. Construct buildings, grow food, and craft gadgets to create your ideal home in the sky.
Key Features:
Multiplayer: Play alone or in co-op mode with your friends.
Building: Gather resources and build your own home in the sky.
Farming: Grow plants to secure your food supplies.
Crafting: Craft technical gadgets and automate your processes.
Energy: Use sunlight, wind and water and create an energy system for your gadgets.
Airship: Build your own airship and explore distant islands in the sky.
Game Engine: Unreal Engine 5
"Solarpunk dreams about an optimistic future, where we can use renewable energy and build a home in a world of floating islands," said Patrick de Rijk, Co-Founder and Programmer at Cyberwave. "Players have to be innovative and creative to build the home they would want in a bright future."

"We love the vision of Solarpunk," said Adrian Kaiser, Head of Communication at rokaplay. "It's wondrous and majestic, yet retains a cozy innocence about it that's becoming increasingly rare in a futuristic setting. Solarpunk is hopeful and harmonious, and it tickles an itch we've had to relax and be creative in this unique scenario."