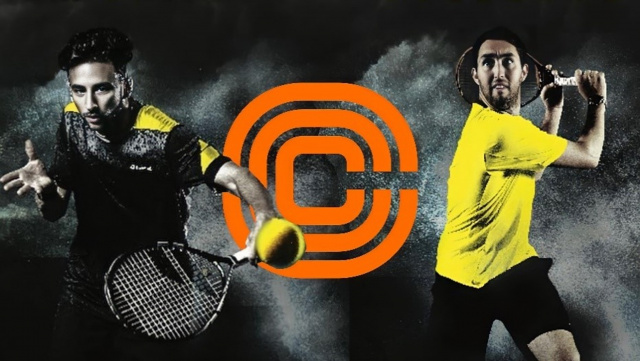 Tennis pros, Adam Hassan & Matt Golledge dive into the virtual world of C-Smash VRS
RapidEyeMovers have teamed up with two professional tennis players, taking them off the courts and switching their rackets for controllers as they are let loose in the virtual world of C-Smash VRS.  
Having both been world no 1 'touchtennis' players in singles and doubles, this latest video is the second in a series of videos that shines a spotlight on emerging and rising sports stars. Filmed at the Bourne Club in Surrey, it focuses on just two of the unsung heroes of the racket sporting world - RapidEyeMovers also recently teamed up with Commonwealth Gold Medalist England no 1 and World no 7 Squash talent Gina Kennedy and you can watch that video here. 
Perfectly mixing the digital universe with the physical real world, C-Smash VRS, which is a reimagining of the SEGA and arcade classic, Cosmic Smash, combines slick, minimalist sport fun with timeless action puzzle gameplay. 
With mind-bending trick shots, stunning cinematic visuals, pulsating beats, powerful smashes and dozens of levels and puzzles to enjoy, C-Smash VRS will be launching on 23rd June. 
Published by RapidEyeMovers in collaboration with developers, Wolf & Wood as well as an incredible collective of talent, including Japanese DJ sensation Ken Ishii, music pioneer Danalogue, passionate designers and creators Kenji Sasaki, Corey Schmitz, Arkotype (Dan Clarke), Rob Davis, fashion house MDNT, Dan Pugsley and more. 
About RapidEyeMovers 
RapidEyeMovers is a brand-new game production studio and publisher based in London, England.  
C-Smash VRS is their first game. www.rapideyemovers.com for Twitter click here and for Instagram click here 
About Wolf & Wood 
Wolf & Wood are an independent games studio. The small but multi-talented team have developed a number of titles including The Exorcist: Legion VR, the award-winning A Chair in a Room: Greenwater, the rock'n'roll riot Hotel R'n'R and The Last Worker, which is coming to PS VR2 as well as other VR platforms, consoles and PC.  
About Adam Hassan 
Started playing Tennis at 7 years old competing for Sussex for under 9's upwards. 
Played for Junior ITF (International Tennis Federation) Tournaments and at 16 played full time Tennis at Sutton Tennis Academy. Adam started competing in senior ITF tournaments and at 19 gained a scholarship at West Alabama University. 
At 20 Adam started coaching full time at Seaford Tennis Club, gained coaching experience at multiple clubs around Sussex before being part of the performance programme at Eastbourne Sports Park. Adam now runs the under 11 boy's County team and has been world no 1 at touchtennis. 
About Matt Golledge 
Matt Started playing Tennis at 8 years old, as a Junior was top 10 in the country and ranked as high as 50 in Europe in the under 14's. Matt competed on the Pro Tour from age 15-17 and he was a hitting partners for world no 1 Caroline Wozniacki and number 3 Nadia Petrova. Adam coaches' performance tennis to top county players.