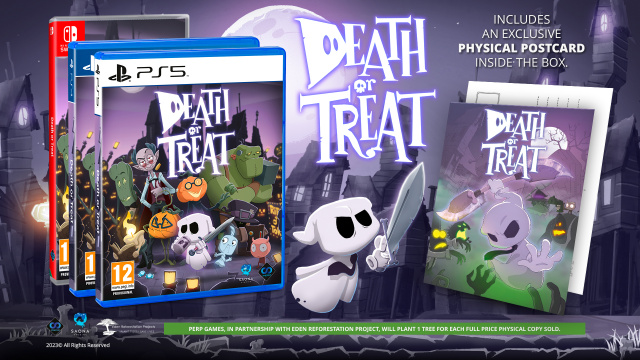 Adorable  2D action-roguelite Death or Treat Launches Today
Perp Games and Saona Studios hand drawn adventure lands for PS5 and PC

London UK, 11th May 2023 - Saona Studios and Perp Games are delighted to finally bring their fast-paced, 2D action-roguelite, hack and slash title, Death or Treat, to market today. Coming first on PS5 and PC with Xbox,  PS4 and Switch following in the coming weeks.
Following in the footsteps of iconic games like Hollow Knight and the Ori series, Death or Treat brings extremely fast-paced, intense action to 2D action-roguelite,  hack and slash fans.
Playing as Scary you must defend HallowTown from regular and corporate ghouls and save Halloween.
Working with traditional illustrators to create beautiful, Halloween inspired hand painted environments and incredibly detailed animations, HallowTown looks stunning with each location having its own unique look and vibe.
And for those who prefer physical box versions, Perp Games is pleased to announce that physical versions will be available from 2nd June 2023.
Death or Treat is available right now for PC (Steam) and PS5, Other formats will be available shortly.
About Saona Games
Saona Studios is an animation and indie team from Spain, with more than 25 years of collective game development experience, where the main objective is to offer the player a unique experience through great adventures with a different narrative and graphic style. With the combined experience and passionate team, Saona Studios is ready to overcome any challenges thrown at them.
Saona Studios Twitter - https://twitter.com/SaonaStudios
About Perp Games

Perp Games is a global video games publisher, with a proud track record of publishing award-winning titles, exciting indie games and some of the world's most recognized franchises, from the most talented studios. Perp Games is an established and recognized global force in entertainment, bringing extraordinary and exciting games to market, across multiple formats and media.
Perp Games Website - www.perpgames.com
Perp Games Twitter - http://www.twitter.com/perpgames