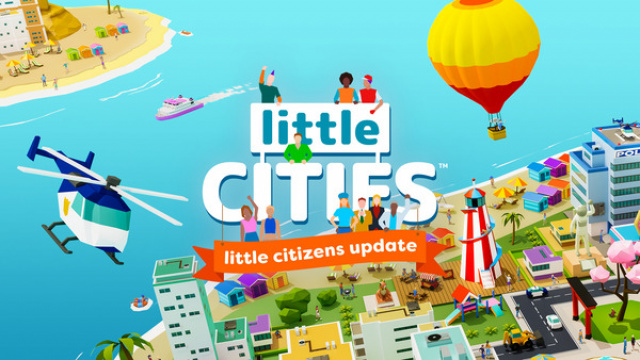 LITTLE CITIES BRINGS THE ITTY-BITTY BUSTLE WITH LITTLE CITIZENS UPDATE! 
Free update to most-loved VR city creator brings cosy creations to life 

Welcome the itty-bitty bustle to Little Cities with the Little Citizens Update, available now on Meta Quest and Quest 2! The latest free update for the cosy city creator, developed by Purple Yonder and published by nDreams, brings cities to life - welcoming an all-new tiny population that's eager to explore every inch of players' intrepid creations. 
Crafting a place where residents love to live has always been at the very heart of Little Cities and this update empowers players to experience residents enjoying their cosy creations up-close for the very first time. From hot dog chompers to beachside bathers, the Little Citizens' huge range of intuitive behaviours deliver a new level of immersion. They relax, party and wander around town, growing in number as players' creations expand - they even wave back! 
With a truly diverse population enjoying everything from yoga sessions in the park to gameday at the stadium, now there's always something delightful to spot on the streets of Little Cities. 
"We're delighted to welcome Little Citizens to the game, bringing a genuinely game-changing sense of hustle and bustle to Little Cities," said James Howard, co-founder of Purple Yonder. "We've been working hard to deliver this popular community ask and I really can't wait to see our fantastic player community discover all the joyful quirks and habits of their new tiny population". 
The Little Citizens Update adds yet another layer of loveliness to the critically acclaimed VR city creator. UploadVR named Little Cities their favourite new Quest game of 2022 and the ninth best Quest 2 game of all-time, hailing Little Cities as "the best city simulator game on any VR platform". The game also featured in TechRadar's list of best Quest 2 games of 2022, celebrating it as the "best example of the [city sim] genre on Quest 2".  
Little Cities' publisher, nDreams has already hinted at more updates to come this year, including bringing Little Cities to new platforms. 
About Little Cities  Little Cities is the debut title from husband-and-wife team Purple Yonder and published by VR veterans nDreams, Little Cities has become the most loved VR city creator since its release on Quest and Quest 2 in May 2022. The game has an average user rating of 4.6 on the Quest Store, making it one of the highest rated games in Quest history, plus a current score of 81 on vrgamecritic, with critics particularly praising the game's UI, accessibility and VR-first design.  
About Purple Yonder Purple Yonder (www.purpleyonder.com) is a new VR studio, based in Cambridgeshire, UK. Founded by husband-and-wife team, James and Kelly Howard, Little Cities is Purple Yonder's debut game. The studio is committed to creating captivating VR experiences, using their experience of working on AAA and indie titles to deliver compelling gameplay in VR.      
About nDreams  
nDreams is a world-leading VR game developer and publisher headquartered in Farnborough, UK. They are the team behind hit titles Phantom: Covert Ops, Far Cry: Dive Into Insanity and Fracked, as well as publishing innovative VR games developed by the brightest indie talents including the cosy smash hit, Little Cities.  
Fully dedicated to VR games since 2013, no publisher has greater virtual reality experience and specialism. With the recent acquisition of Near Light, nDreams is now comprised of five internal development teams, across four studios: the original nDreams Studio, nDreams Studio Elevation, nDreams Studio Orbital and now Near Light.  
With a $35 million investment from the Aonic Group in March 2022 and several exciting projects in development across our teams – including Synapse and Ghostbusters: Rise of the Ghost Lord – nDreams has cemented its place at the forefront of VR gaming.  
Follow nDreams on Twitter, Instagram, TikTok, YouTube and Facebook.