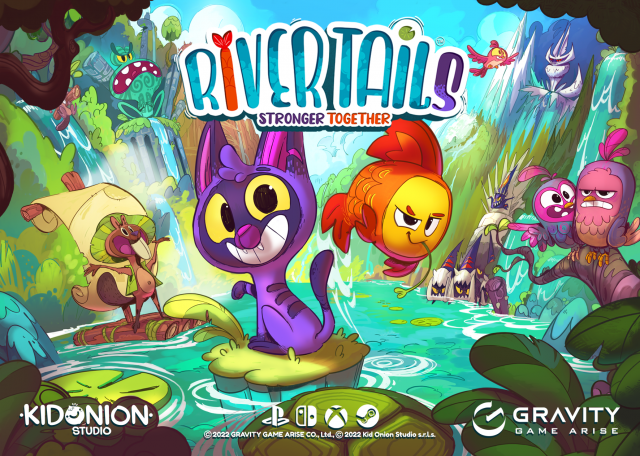 Gravity Game Arise and Kid Onion Studio to exhibit
River Tails Stronger Together
At Milan Games Week
Tokyo, November 24th, 2022 Gravity Game Arise Co., Ltd. (located in Chuo-ku, Tokyo) is happy to announce that the dem of "River Tails Stronger Together" will be exhibited by GGA and developers Kid Onion Studio at Milano Games Week at the Fiera Milano convention center in Milan, Italy from 2022 November 25th~27th
Milan Games Week is Italy's largest and most important gaming festival that has gathered fans of gaming and gaming culture from all over Italy since 2011. This year is the second time the Kid Onion studio team has brought River Tails to Milan Games Week and this time with lots of changes and improvements!
In addition to the content also shown to rave reviews at EGX in London earlier this year, in Milan the Kid Onion team will have new levels for visitors to play, including a special time trial with prizes for those who complete the challenge.
 River Tails: Stronger Together
River Tails Stronger Together is a colorful cartoonish 3D two-player co-op adventure platformer about a curious and excitable purple kitten "Furple" and a slightly irresponsible fish "Fin". Players travel up the river to save Furple's family. Cooperate with your friends to solve the gimmicks and defeat the bosses that awaits you. Will you be able to save his family?
The game is being developed by Kid Onion Studio, a game developer based in the UK and Italy, and is planned for multi-platform deployment. The team regularly shares new short videos of the game updates on their social media! Make sure to check out both their Instagram, Tik-Tok and please wishlist the game!

Official Instagram
https://www.instagram.com/rivertailsthegame/
Official TikTok
https://www.tiktok.com/@rivertailsthegame
Title: River Tails: Stronger Together
Genre: Coop platformer
Platform: PC, Xbox, Nintendo Switch, PlayStation
Delivery start date: Scheduled for 2023

Development: Kid Onion Studio
Copyright: © GRAVITY GAME ARISE Co., Ltd. © Kid Onion Studio
Steam URL: https://store.steampowered.com/app/1851610/River_Tails_Stronger_Together/
Exhibition Overview
Exhibited Game

River Tails Stronger Together

Developer

Kid Onion Studios

Event

Milan Games Week

Booth

Pavillon: 20P Stand: In20

Schedule

2022 November 25th~27th

Time

25th: 11am~11pm

26th: 10am~7pm

27th: 10am~7pm

Event website

https://www.milangamesweek.it/about-us

Venue

Fieramilano

Venue Address

Strada statale Sempione, 28
20017 Rho MI

Venue Website