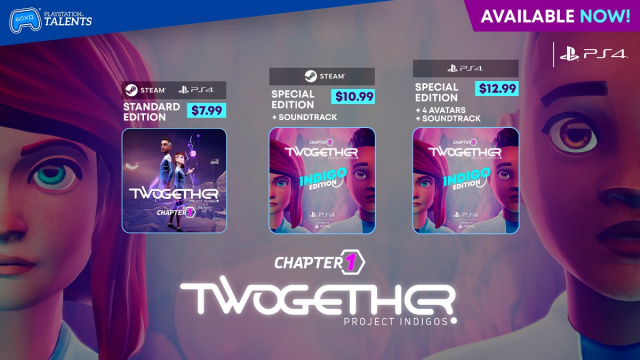 RAFI AND SAM LAND TODAY ON STEAM IN PUZZLE PLATFORMER TWOGETHER!
A special edition of the game is also now available on both Steam and PlayStation 4
Madrid, November 23rd.
Sony Interactive Entertainment España (SIE España) and Flaming Llama Games announced today that, one year after its release on PlayStation 4,
Twogether: Project Indigos
, a third-person puzzle adventure,
is also now available on Steam at a price point of $7.99 / €7,99, with a 10% discount
during opening week. Flaming Llama Games has also released a
special edition both on PlayStation 4 ($12.99 / €12,99) and on Steam ($10.99 / €10,99)
. This special edition features the base game and its
soundtrack
(plus
four avatars
only on PlayStation)
.
Rafi and Sam are two kids imprisoned in the Hexacells research facility, a dark place where children with supernatural powers are abducted to test their abilities. Somehow, Rafi and Sam manage to break free and they will try to get as far away from Hexacells as possible. They will have to cooperate to overcome difficult obstacles to learn, along the way, the true value of friendship.

Twogether: Project Indigos is a single-player third-person puzzle adventure where players will manage both Rafi and Sam in their quest to escape from Hexacells. Rafi has telekinetic powers while Sam can teleport himself but only by combining their special abilities and paying attention to their surroundings will allow them to escape from the facilities.
KEY FEATURES
Combine Rafi and Sam's supernatural powers to solve puzzles. Like an obscure escape room, you'll have to consider every detail of the hexacells facilities, as the environment will play a key role to overcome those obstacles
Teleport to unreachable places with Sam while you move objects from a distance with Sami to break away from Hexacells
Discover the true meaning of friendship in a single player adventure where cooperation will be vital to ensure success
Discover the true nature of the Hexacells lab, a dark research facility where children with supernatural powers are abducted.