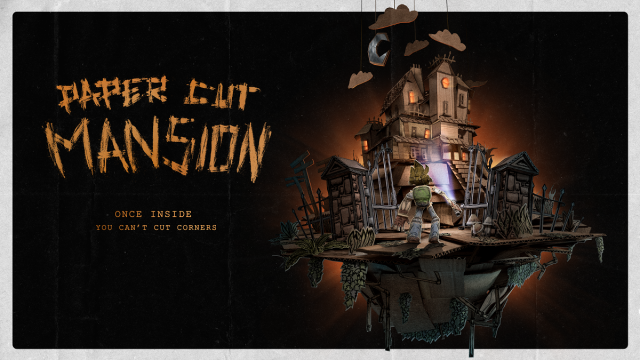 Paper Cut Mansion Brings Mystery To PlayStation & Switch On December 5th
Use your investigative skills to unfold all of the secrets of this enigmatic cardboard world
Gothenburg, Sweden - November 22nd, 2022 - Thunderful & Space Lizard Studios are pleased to announce that their spooky cardboard cut-out thriller, Paper Cut Mansion, will launch December 5th on PlayStation and Switch for a price of $19.99 / €19.99 / £16.99. Unfold a unique handcrafted world, a mansion filled with strange characters and a wealth of fun roguelite mechanics as you investigate what's been going on in this bizarre place.

In Paper Cut Mansion, you will solve puzzles, battle enemies and complete quests to unlock new abilities and discover new equipment. Each unique run you undertake opens up the opportunity to define your own playstyle, in addition to giving you a greater chance of overcoming the challenges that each attempt throws in your path.
In Paper Cut Mansion, you play as Toby, a police detective arriving at the road leading to the enigmatic old mansion. As you seek to unfold the truth behind the ominous place, you will need to use a keen eye and your sharp detective skills, with each run giving you the opportunity to collect another piece of evidence to be tacked on the Evidence Board. Intrigue is further added to the mysterious vibe of the mansion through a dimension-hopping mechanic that lets you leap between alternate versions of the same location, adding a different perspective to the gameplay and atmosphere as you uncover new secrets.
An intriguing cast of characters will be met as you explore in Paper Cut Mansion. You will find those that may help or hinder you: some will offer quests that can earn you valuable rewards, some will try to hide and some may even have a more malicious intent toward you.

"After launching on PC and Xbox, our small team has been working hard to get the game ready for PlayStation and Switch players," said Gabriele Caruso, Lead Designer at Space Lizard Studio. "I'm delighted that we're drawing close to finally letting players on those platforms loose in the mansion on December 5th!"
Thunderful
Twitter: http://www.twitter.com/thunderfulgames
Facebook: http://www.facebook.com/thunderfulgames
Instagram: http://www.instagram.com/thunderfulgames

Space Lizard Studio

Twitter: https://twitter.com/spacelizardst
Facebook: https://www.facebook.com/spacelizardstudio/
Instagram: https://www.instagram.com/spacelizardstudio/

About Thunderful
Thunderful Group is a group of companies that develops, publishes and invests in games as well as distributes Nintendo products, games, game accessories and toys. Founded in 2017 Thunderful Games is one of the two business segments in Thunderful Group, the other being Thunderful Distribution. Over the last few years Thunderful Games has, organically and via acquisitions, grown into a global organization with eight development studios and over 300 employees. Besides the award-winning internal development pipeline, Thunderful Games also publishes a large number of third-party titles and invests in external game projects.

About Space Lizard Studio
Space Lizard Studio is an independent video game development studio, based in Cambridge, UK. They develop games for next gen consoles, PC and mobile, as well as mobile apps, serious games and gamification solutions.