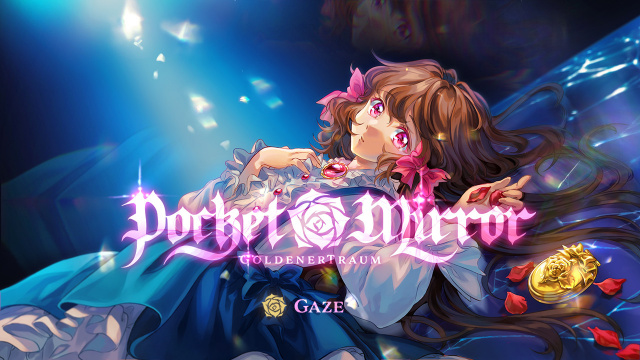 KOMODO REVEALING POCKET MIRROR ~ GOLDENERTRAUM AT BITSUMMIT
First Public Showing In Preparation for PC, Steam Deck & Next Gen Console Launch 
August 5, 2022
— Komodo, a game publishing and development company with offices in Honolulu, Hawaii and Tokyo, Japan, is presenting the first public showing of Pocket Mirror ~ GoldenerTraum at the BitSummit conference in Kyoto, Japan this weekend.
The game is slated to be released worldwide for PC and as a fully Steam Deck Verified title this holiday, with next gen console releases planned for the new year. 
Yesterday, Komodo also announced plans to deliver Valve's Steam Deck in Japan, Korea, Taiwan, and Hong Kong and opened online reservations for the device (
Originally released in 2016, Pocket Mirror is a mystery horror RPG franchise that follows a heroine in search of her true identity in a bizarre and wondrous world. Focused on puzzle-solving and exploration, it immerses the player in its compelling narrative and story-driven progression with a cast of unique characters, beautiful visuals, and a stunning original soundtrack.
This remastered version, produced in-house at Komodo and in collaboration with VisuStella,
brings fresh life to the game, providing a refreshing and nostalgic experience for established fans while bringing the title into the modern game era with brand new visuals, dynamic new gameplay, and a vast array of additional content.
"Our work on this title is that of fans of gothic horror RPGs," said Jonathan Wang, producer at Komodo. "The new ending, gameplay, art, and animation are all features that we, as fans, wanted to see added to the franchise. We hope players enjoy them as much as we have enjoyed creating them."
A breathtakingly eerie world riddled with puzzles to solve, mysteries to unravel, and challenges to overcome.

Explore a vast array of beautiful environments, each a stroke in the painting that is the haunting world of Pocket Mirror.

Remastered artwork with options for both new and old fans - play with the classic style in high definition or with the brand new GoldenerTraum edition portraits.

A moving original musical score filled with everything from ghostly laments to spine-tingling melodies.

GoldenerTraum exclusive 2D animations alongside the return and remaster of the original cutscenes.

Huge replayability with hidden puzzle outcomes, numerous endings and New Game +, including a brand-new, GoldenerTraum exclusive ending.