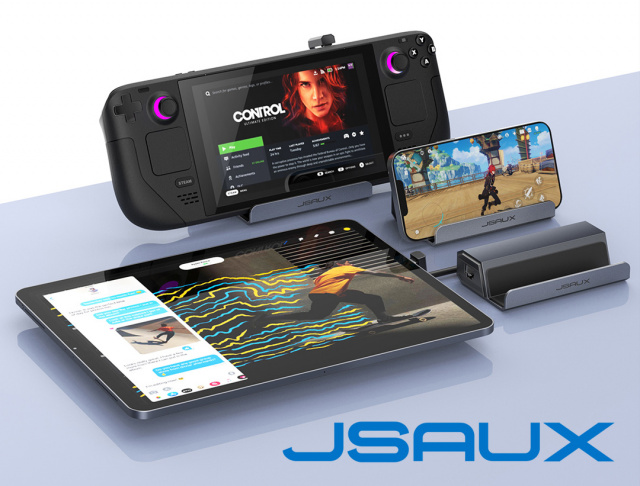 THE STEAM DECK DOCKING STATION WILL BE BACK ON SALE ON JUNE 30!
Pre-orders are now open! Protect your steam deck in a top of the line protective standing case and multi-function docking station that brings you a myriad of accessibility features to your fingertips.
Tech manufacturer JSAUX announced that its line of accessories for Steam Deck, consisting of a docking station, which has become a sales hit after its reveal preview on Reddit, and a protective standing case, are both now available for purchase on its official website at $39.99 and $21.99 respectively. Orders will begin shipping out starting June 30th.
After a successful first batch that was quickly sold out, JSAUX is happy to announce that players can get their hands on a docking station that let's them play in 4K@60Hz on a TV while having the Steam Deck on charge, with access to a variety of ports that allow for multiple add-ons; from external hard drives to an ethernet connection.
KEY FEATURES
Steam Deck Docking Station:
5-in-1 Docking Station for Steam Deck. Equipped with an HDMI 4K@60Hz output, an RJ45/Ethernet input, a USB-C port for charging, and dual USB-A 2.0 ports, letting you explore a new way to play with Steam Deck.

4K@60Hz HDMI Output. The Steam Deck Dock comes with a 4K@60Hz HDMI 2.0 output. When you connect an external 4K monitor, it can provide you a sharper and smoother visual experience, so you can enjoy the visual feast on your games.

Full Charging Speed for Steam Deck. JSAUX Steam Deck docking station supports 100W Max power delivery, which is sufficient to charge your Steam Deck at full speed when paired with the original charger. [Note: the MAX charging speed of Steam Deck is 45W]

A Perfect Combination. JSAUX all-in-1 Steam Deck docking station blends Hub and stands together perfectly. You don't have to buy a regular hub and a stand base for your Steam Deck, which is not only easier for you to use, but also keeps your desktop neat and organised.

Compatibility. The Docking Station is designed for the Steam Deck, but it is also compatible with iPads and Android phones with USB-C ports.
Steam Deck Protective Standing Case:
Unique Design. Specifically Designed for Steam Deck (2022 Release).

Protective Case with Stand Function. Perfect combination between a protective case and a stand base has the advantages of both products. The steam deck becomes more convenient to play and adds more possibilities with this unique design.

Fit Perfectly. All cutouts are aligned and the case will not block every port or button, half wrap design makes it easy to install and remove. Behind the Steam Deck, the opening holes solve the heat dissipation problem excellently.

Ergonomics Design. The ergonomic design for this Steam Deck case made it more comfortable and easy to grip for extended gameplay, a texturing design on two sides for non-slip can bring a better hand feeling.

TPU Material. TPU case effectively solves annoying fingerprints and the accumulation of dust and oil.