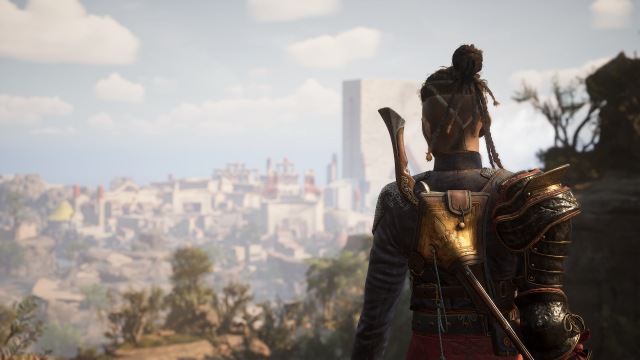 WORTHY OF THE GODS - BRINGING THE WORLD OF FLINTLOCK: THE SIEGE OF DAWN TO LIFE
A44 Games Share a Behind the Scenes Look at Environment and Character Design in Their Upcoming Action-RPG 

[LONDON, 11 May, 2022] – A44 Games® and Kepler Interactive®, are delighted to further draw back the curtain on Flintlock®: The Siege of Dawn in their latest behind the scenes look at the game.
From the team behind Ashen, Flintlock: The Siege of Dawn is an epic adventure where players join Nor Vanek, a member of the coalition army, and her mysterious companion Enki, working together to seek revenge on the gods, cutting a swath through an army of the undead that wait in their path. Join A44 Games' Art Director, Robert Bruce, and Principal Environment Artist, Steven Chen, as they share details of the rich and vibrant world the studio has created as the backdrop to their tale.
Inspired by the nature and landscapes of A44's native New Zealand, Flintlock is aesthetically diverse which not only influences the game's visuals but also adds a depth and fullness to this brand-new world. From towering citadels to cavernous ruins and far-reaching desert sands, Flintlock is designed for exploration and rewards players who go the extra mile to uncover even more.
Alongside environmental design, Bruce and Chen shed light on Flintlock's character design, and the high level of detail in every encounter that players will have with the gods that rule the game's world. As a small studio, A44 are at the forefront of design leveraging tools such as Unity's MetaHuman Creator to bring their characters to life through highly detailed animation.
Flintlock: The Siege of Dawn will be available later this year for PlayStation®5, PlayStation®4, PC (via STEAM® and Epic Games Store®), Xbox Series X|S and Xbox One – available day one with Xbox Game Pass. For more information visit www.playflintlock.com
Related Links:
Flintlock Website: playflintlock.com
Flintlock Twitter: @PlayFlintlock
Flintlock TikTok: @PlayFlintlock
Flintlock Instagram: @PlayFlintlock
Flintlock Facebook: @PlayFlintlock
Kepler Interactive: www.kepler-interactive.com

Kepler Interactive Twitter: @Kepler_Interact
Kepler Interactive Instagram: @Kepler_Interact
Kepler Interactive Facebook: facebook.com/KeplerInteractive
About A44 Games
A44 was born in 2013 with the goal of making games we want to play. Located in Wellington, New Zealand the A44 team is a sophisticated group of game developers and world-leading visual effects artists who excel at meticulous gameplay and cinematic experiences. We blend the bravery of an independent studio, with the quality of AAA development to make great games. A44's first game, Ashen, was released in 2018 achieving critical acclaim.
About Kepler Interactive
Kepler Interactive is a global game developer and publisher built on a unique co-ownership model. Led by the founders of Kowloon Nights – an award-winning fund that redefined videogame financing, deploying over $100M to support independent developers under fair and sustainable terms–– Kepler gives studios a stake in the business and a leadership role in strategic decision-making, whilst preserving their creative independence, enabling them to make fun and commercially successful games appealing to a wide audience. Kepler's partner studios are found worldwide: A44 Games in New Zealand, Alpha Channel and Timberline in North America, Awaceb, Ebb Software and Sloclap in Europe, and Shapefarm in Asia. Kepler's support and leadership team, headquartered in London, has vast gaming industry experience along with a proven track record of financing, marketing, and working with developers to bring great games to market at scale. 
Flintlock: The Siege of Dawn © 2022 A44 Games Limited.  All rights reserved.
FLINTLOCK, ASHEN, A44 GAMES, the A44 Games logo, KEPLER INTERACTIVE and the Kepler Interactive logo are all registered trademarks of the Kepler Interactive group of companies.
XBOX is a registered trademark of the Microsoft group of companies. PLAYSTATION is a registered trademark of Sony Interactive Entertainment Inc. STEAM is a registered trademark of Valve Corporation. EPIC GAMES STORE is a registered trademark of Epic Games, Inc.