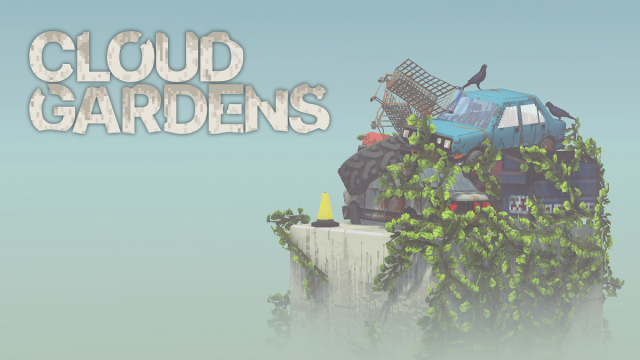 Cloud Gardens Plants Its Roots On Nintendo Switch On May 12th
Harness the power of nature to overgrow dioramas of urban decay in meditative sandbox experience

Gateshead, United Kingdom - April 21st, 2022 - Coatsink and Noio are extremely excited to announce that their chill title about using the power of nature to reclaim beautiful lo-fi scenes of urban decay, Cloud Gardens, is on its way to Nintendo Switch. The game will be released for Switch on 12th May 2022 and priced at £13.99 / $17.99 USD / €14.99 / ¥1840 SRP.

In this meditative title that embraces your creativity, create small plant-covered dioramas of brutalism and beauty by planting seeds, repurposing hundreds of discarded objects and creating unique structures for nature to reclaim.
Dive into a relaxing sandbox mode with no goals, or take on a multi-chapter campaign where the task is to strike a balance between the natural and the manufactured. Adding objects will encourage lush vegetation to grow, but each object must be covered in foliage in order to proceed.

Cloud Gardens hovers somewhere in between a sandbox toy and a game with challenges. Partly a gardening simulator, partly a dystopian landscape builder, and partly a puzzle game that is both satisfying and without frustration. It is a relaxing experience that takes you from one scene to the next while encouraging creativity and coming up with your own solutions.
About Coatsink

Coatsink formed in 2009 and has grown into a diverse and versatile development studio and indie Publisher which is now part of the Thunderful Group. Coatsink has developed and published fantastic games for all current gen consoles, PC and Virtual Reality, including the recent games Get Packed, Onward, Cake Bash, Transformers: Battlegrounds, PHOGS! and Jurassic World: Aftermath. Coatsink has built its reputation on exciting and innovative titles and a wicked sense of humor.

About Noio
Thomas van den Berg creates games and game-like things with a small studio named 'Noio'.He loves working on code, art, and the magic that happens when those come together. Noio's latest title is Cloud Gardens, a sandbox title where you reclaim scenes of urban decay with nature to create beautiful lo-fi dioramas.