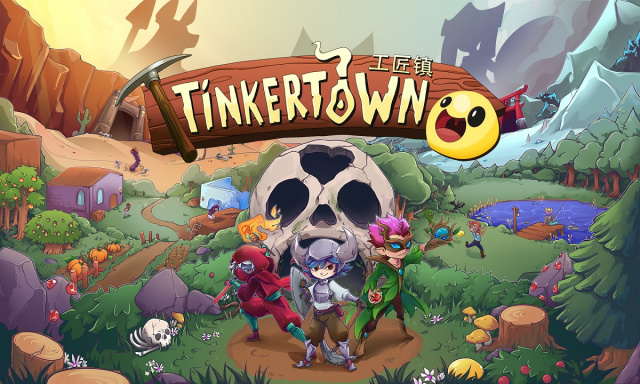 Tinkertown Adds More Depth With NPCs, Quests and Main Storyline
NPC and Housing update brings quests, alternative recipes and new equipment

Gothenburg, Sweden - April 21st, 2022 - Tinkertown continues to get bigger and better with the latest big update for the charming multiplayer sandbox game out today. The new "NPC and Housing update" adds NPCs to your town and with them quests for the first time, plus the ability to build housing for your new visitors, alternative recipes, decoration and more.

You will now meet NPCs while exploring Tinkertown's magical world who will help ensure there is more to do than ever by giving you specific tasks. Once you've completed a unique set of requirements for each NPC, they can then be invited to join your town - though you'll have to get to work collecting and crafting the materials you need to build them a place to stay!
NPCs will not only bring specific benefits to your town, but enhance Tinkertown's core loops of crafting, building, exploration and combat. NPCs will have quests for you to complete, offer new weapons, armor and decorations, and provide alternative recipes for crafting that will give you greater flexibility when it comes to managing your valuable resources.

This new update follows the recent controller update which added controller support for modern controls, from Xbox 360 up to Xbox Series and PS5 controllers. The update also added the ability to rebind keys, a new UI that provides short description on inventory objects and an on-screen keyboard.

"The addition of NPCs and the quests that will come along with them is something we and our players have really been looking forward to," said Julian Reinartz, Tinkertown's Project Manager. "We're really excited to finally be able to deliver that today and players can be assured that we will be continuing to improve and expand Tinkertown in the upcoming Combat and Classes update and more to come!"

Players can also look forward to the upcoming Combat and Classes update, which will revamp combat to add mobility to combat encounters and make fights more dynamic, as well as the addition of classes defined by the players choice of armor and weapons. The update will also add dual-wielding, new spells, rebalanced stats and a host of other tweaks to improve the combat experience.
Thunderful Games
Twitter: http://www.twitter.com/thunderfulgames
Facebook: http://www.facebook.com/thunderfulgames

Instagram: http://www.instagram.com/thunderfulgames

About Thunderful
Thunderful Group is a group of companies that develops, publishes and invests in games as well as distributes Nintendo products, games, game accessories and toys. Founded in 2017 Thunderful Games is one of the two business segments in Thunderful Group, the other being Thunderful Distribution. Over the last few years Thunderful Games has, organically and via acquisitions, grown into a global organization with eight development studios and over 300 employees. Besides the award-winning internal development pipeline, Thunderful Games also publishes a large number of third-party titles and invests in external game projects.

About Headup
You thought Headup was a publisher? Think again. A year ago, we were acquired by the Thunderful Group, and our publishing arm has by now been fully incorporated into theirs. Additionally, Headup created a small development team made up of our own internal talent, with the goal of letting our creativity loose and turning our own ideas into quality games.

Having collaborated with dozens of highly talented teams, we've been fortunate to learn so much about design and quality over the last decade, that it felt natural to leverage that knowledge and turn our attention to game development. And thus Tinkertown was born, our take on a modern sandbox multiplayer RPG.

Over the course of Tinkertown's ongoing creation, the development arm of Headup has been growing constantly, working on several different prototypes and games. Work on our beloved Tinkertown continues in its Early Access and we have a load of super exciting content announcements for the game coming this year so please stay tuned for more soon!