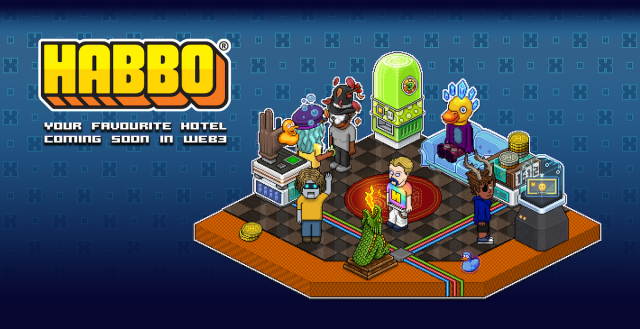 Sulake to launch a new, fully integrated Web3.0 Habbo server, Habbo X
Free-to-play, age-restricted game aims to reward room creators and designers with credits, tokens and NFTs
Helsinki, FI - April 21st, 2022 – Sulake, part of the digital entertainment and media platform Azerion today announced its intention to expand Habbo with a brand new metaverse-based hotel to launch with full Web 3.0 integration later this year. With a focus on NFTs, play-to-earn and tokenomics, Habbo X is a distinct space where the Habbo community and NFT communities can integrate, mingle, own their rooms and create their own monetized, play-to-earn games. Habbo X will become the tenth Habbo hotel currently in operation and arrives nearly a decade after Habbo's last hotel launch in 2012, Habbo Turkey, a fully localised version for Turkish-speakers.
"Habbo has always been at the forefront of creating virtual communities for social gamers and creators, and we want to spearhead this with the adoption of the new blockchain technologies," said Valtteri Karu, CEO of Sulake. "Our goal is to keep Habbo as a social pioneer of the endless possibilities available in the Web 3.0 metaverse."
"The launch of Habbo X will come as a result of our efforts to introduce new and existing Habbo residents to the innovative features made possible due to Web 3.0 technology," said Jurriaan van Teunenbroek, Vice President of Games & Content at Azerion. "With this new technology, we can reward our Habbo players and content creators in a way that was not possible before."
About Habbo and Sulake
Sulake is a social entertainment company focused on providing a safe and fun online service for self-expression through its games, Habbo and Hotel Hideaway. Sulake was founded in 2000 by a small team of passionate people and now after 20 years, Habbo is still one of the largest virtual communities in the world, reaching players all over the world each month. With paying customers in over 115 countries and over 850,000 active users a month, Habbo continues to be a hugely popular and globally recognised brand.


Sulake's mission is to enable its users to meet new people, make friends and give them a place to create and share their user-generated content in fun virtual surroundings. Sulake was acquired in 2020 by Dutch media and technology company Azerion. www.sulake.com
About Azerion
Azerion is a high-growth digital entertainment and media platform. As a content-driven, technology and data company, Azerion serves consumers, digital publishers, advertisers and game creators globally. Azerion's integrated platform provides technology solutions to automate the purchase and sale of digital advertising for media buyers and sellers, supported by in market sales and campaign management teams. Through our technology, content creators, digital publishers and advertisers work with Azerion to reach the millions of people across the globe that play Azerion's games and view its distributed entertainment content to increase engagement, loyalty and drive e-commerce.

Founded in 2014 by two Dutch entrepreneurs, Azerion has experienced rapid expansion driven by organic growth and strategic acquisitions. Azerion is headquartered in Amsterdam, the Netherlands and is a publicly traded company listed on Euronext Amsterdam. For more information visit: www.azerion.com