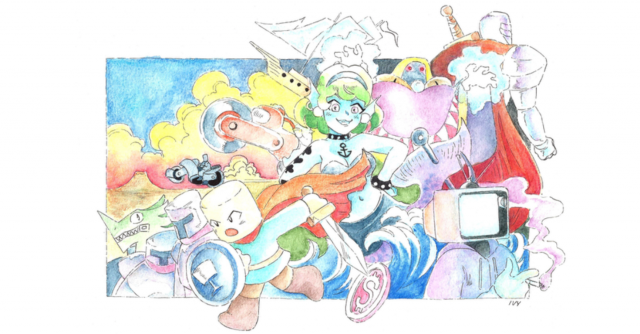 EARTHBOUND-ZELDA MASHUP RPG TOASTY: ASHES OF DUSK BLAZES PAST 300% FUNDED ON KICKSTARTER WITH 1 WEEK TO GO
The game from Pocket Llama, a nod to classics such as Earthbound, Final Fantasy, and A Link To The Past, is nearing its final stretch goals as the campaign gets to its end

The Marshmallow Knight needs your help spreading the word about his mighty quest! The action RPG Toasty: Ashes of Dusk - which was fully funded within 3 hours of launching - is now in it's last week on Kickstarter, with Top Hat Studios and Pocket Llama announcing the final stretch goals of the campaign. The next stretch goal at hand is a fully animated cutscene for Toasty and its protagonist, Marshall the Marshmallow Knight, as well as more NPCs and original music. After that, the second-to-last stretch goal widens the universe of the game with a second animated cutscene and NPC quests for new NPCs. And finally, if the campaign reaches $150,000, Toasty: Ashes of Dusk will get a new playable area.
Toasty: Ashes of Dusk stars Marshall the Marshmallow Knight, an unlikely hero on a quest to stop an all-powerful evil to protect the many friends he has in the magical world of Geldia -- all while discovering the truth of his mysterious origins... such as, why is he a talking marshmallow? Toasty will be released later on PC and consoles in late 2023. As well as a variety of other goods, a real Nintendo Switch physical edition of the game is available as part of the campaign.
Marshall's quest for identity and to fight evil will take him to all corners of the magical land of Geldia. Toasty stands out thanks to its engaging, tight gameplay with lots of interesting items and... special abilities thanks to Marshall's, well, marshmallow form! Toasty's inspirations are childhood classics - beloved games played while growing up such as Final Fantasy, Earthbound, and A Link To The Past. On the shoulders of these giants, Toasty has been built to be something new and refreshing. The game combines sword combat, peculiar items, marshmallow abilities, and seamlessly mixes multiple gameplay modes such as racing, fishing and classic JRPG turn-based combat alongside its more traditional zelda-style gameplay.



FOLLOW ALONG AND GET MORE INFORMATION ABOUT TOASTY ON THE CAMPAIGN!

KEY FEATURES
Engage in an exciting journey that will take you across all of Geldia; explore a diverse world filled with unique NPCs, dungeons, and enemies

Use your marshmallow form to your advantage! Burn, stick, roll, and squish your way through all sorts of sticky, perilous situations... or to just hoodwink bosses!

Help the inhabitants of Geldia regain their hope by completing side-quests. A surprising selection of mini-games that totally transcend different genres will keep you on your toes!

Unlock new abilities and items allowing you to complete dungeons, puzzles and access previously inaccessible areas

A loving tribute to Earthbound, The Legend of Zelda: A Link to the Past, and Final Fantasy

Coming to Steam, the Epic Games Store, Nintendo Switch, Playstation 4, Playstation 5, and the Xbox family. Nintendo Switch version also available for pre-order as a physical version through Kickstarter