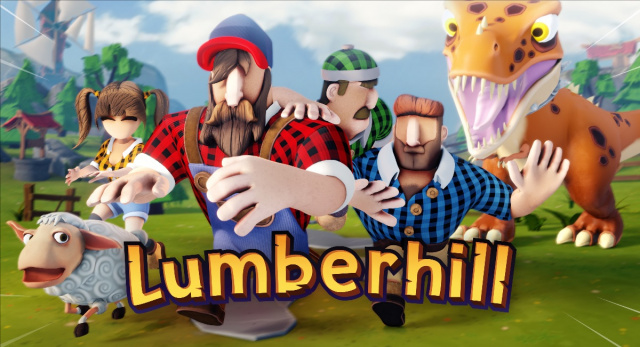 Join the Multiplayer Mayhem of Lumberhill, Now Available on Nintendo Switch!
Put your lumberjacking and teamwork skills to the test in online or local co-op, PvP, or solo modes

Krakow, Poland -- April 15, 2022 -- Publisher All in! Games and developer 2BIGo, supported by ARP Games, announced that Lumberhill, a hilariously chaotic multiplayer party game, is available today on Nintendo Switch for $14.99/€12.49/£11.39, alongside a DLC featuring 4 brand new characters for $1.99/€1.59/£1.69. Already available on Steam for PC, Lumberhill offers hours of frantic multiplayer action, tasking you to work with, or against, your friends in order to fulfill your lumberjack duties in the midst of mischievous attacks from nature. Get Lumberhill now with a 34% launch discount on both Nintendo Store and Steam.
Life as a lumberjack is no simple walk in the forest—especially when nature is there to trip you up. Yet a forester's work must be done no matter the colorful chaos! Chop wood and catch fluffy sheep in the forest, coax cute little piglets in Hawaii, steal eggs from pterodactyls when you time travel to Dino World, and herd pandas in Asia, solo or with friends. Put your teamwork skills to the test with up to four players in local or online multiplayer. Feeling mischievous? Switch to PvP and chase your friends across the map (and off it!) as a ram or a furious hog to keep them from completing tasks. Through it all, collect an array of fun skins and capture the craziest screenshot you can.

"Lumberhill is a family-friendly multiplayer game for players of all levels. The casual and bright nature of the game will appeal to the Nintendo Switch audience, while the available online multiplayer will allow them to connect with friends and family outside their homes," says Raul Nieto, Head of Marketing at All in! Games. "At a time when live social interaction is decreasing, there is a demand for co-op experiences, therefore we are certain Lumberhill will find its place within the player community and help bring people together."


"We'd like to thank our community for the support and motivation throughout the development of the game. We've really enjoyed designing the colorful characters and cute animals that PC players have fallen in love with, and we hope Switch players will do the same," says Szymon Adamczyk, Co-Founder and Developer at 2BiGo.
Put your teamwork skills to the test with up to 3 additional friends in local or online co-op or pvp, or play alone in solo mode
Have your butt kicked by nature
Complete orders in a wide variety of challenging, time-limited levels
Deal with chaotic random events such as wildfires, meteor showers, and pirate attacks
Unlock new exciting worlds and a wide variety of skins as you progress
Find unexpected routes and ways of doing things
Throw pandas around and evade dinosaurs
Kick your friends off the map by accident a lot (or on purpose—we don't judge)