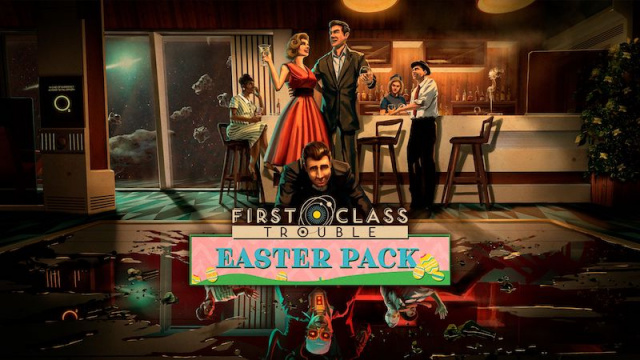 FIRST CLASS TROUBLE EASTER UPDATE
The Perfect Excuse To Dress as a Giant Rabbit or Chicken, First Class Trouble Adds Zany Easter Themed New Content Pack Priced $4.99 / €4,99
Denver, CO – April 14th 2022 - Independent games publisher Versus Evil and developer Invisible Walls are pleased to announce that Easter has come to the Alithea!

First Class Trouble is bringing back some fun Easter classics to the ship - mainly the chocolate eggs and costumes! In this pack you'll get access to an Easter Bunny outfit that was used to scare people around the ship (suitable for Personoids or the like) and an Easter Chicken outfit freshly hatched from its egg.
The Easter Pack is the 11th content pack to be introduced into First Class Trouble and adds to an already hugely varied assortment of fun outfits and accessories for players to purchase.
If roaming the decks dressed as giant chicken or Easter Bunny floats your intergalactic boat, then grab your basket of eggs and roam away on the Alithea!

For more information on First Class Trouble be sure to check out their Steam page here
Happy Easter everyone!

First Class Trouble main website: https://www.firstclasstrouble.com

Versus Evil First Class Trouble page: https://versusevil.com/fct/
First Class Trouble Steam page:  here.
Sony PlayStation Store page: here
Stay up to date with First Class Trouble via Twitter here.