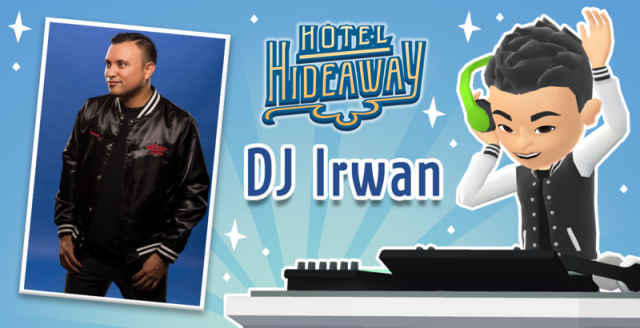 First 2022 Metaverse Concert in Hotel Hideaway promises to deliver an outstanding performance featuring DJ Irwan
Listen and dance to an exclusive one-hour 'galactic' mix from a world-renowned DJ on January 21st
Amsterdam – 14th January 2022 – Azerion, the digital entertainment and media platform, announced today that the popular DJ concert series in 3D online social community Hotel Hideaway is returning in 2022 with the first event featuring an hour-long 'galactic' mix session with DJ Irwan. The concert will take place in Hotel Hideaway on January 21st at 4pm local time in four time zones including central Europe (CET), East and West coast USA (EST, PST) and Asia (GMT+7). Mark your calendar and tune in for an exclusive set created just for Hotel Hideaway players!
"We have recently passed our 17 million registered user milestone in Hotel Hideaway, and what better way to celebrate than with our fans by bringing back the popular DJ concert series," said Jurriaan van Teunenbroek, Vice President of Azerion. "Keep an eye out for announcements about our upcoming lineup of DJs, and a huge thank you to DJ Irwan for creating what is sure to be a special event to kick off 2022 in Hotel Hideaway!"


Once again Hotel Hideaway's concert venue has been decked out for a new exclusive DJ set, this time in a galactic-inspired virtual spaceship with explosive colors and even more explosive beats. Escape the world for an hour and get lost in the music, dancing with your Hotel Hideaway friends around the world. Special in-game merchandise will also be available for purchase, and Azerion will be giving away a collectible pin to everyone who attends the concert.
About DJ Irwan
Born and raised in Amsterdam, Irwan has been one of the best hiphop / open-format DJs in Europe for over a decade. With his unique style of scratching, singing and smoothly mixing up hip-hop, R&B, EDM and everything in between, Irwan has established himself as a crowd favorite, making him the go-to guy for clubs and promoters when it comes to big urban events around the globe. Irwan has played at private parties for artists like Rihanna, Justin Timberlake and Janet Jackson and opened up concerts for 50 Cent, Ne-Yo, Rita Ora, Sean Paul and Flo Rida, to name just a few. He is a regular guest at big festivals such as Dance Valley, 7th Sunday Festival and Mysteryland. In 2017 he made his debut at some of Asia's most prestigious music festivals: Ultra Japan and It's The Ship. As recognition of his achievements, Irwan has been nominated multiple times for MOBO Awards, FunX Awards and Dutch Urban Awards in the category of Best Urban DJ. Besides that, Irwan was among a small selection of DJ's chosen by KLM Royal Dutch Airlines to contribute to their inflight entertainment programme on all long-haul flights. The signs are clear: sky is definitely not the limit for Irwan!
About Hotel Hideaway
Hotel Hideaway is a 3D social virtual community full of opportunities to meet new people and make new friends. With over 17.5 million registered users worldwide and approximately 800,000 monthly active users on average, Hideaway is a lively and vibrant world full to the brim with social adventures and fun activities! Listen to the music you love in the game's virtual Concert Venue and chat and interact with your favorite artists. Dress your avatar to impress, and stand out from the crowd with an exceptionally large and diverse collection of clothing, items and accessories. Customize your room with a variety of furniture items and decorations. Learn secret gestures and dance moves – and then party into the early hours inside unique public rooms! No matter what you like to spend your time doing, Hotel Hideaway is the place to be! Dutch digital gaming and monetisation company Azerion acquired Sulake in January 2021, after being a majority stakeholder since 2018. Sulake's headquarters are located in Helsinki, supported by design and marketing in London and a user care centre in Madrid.