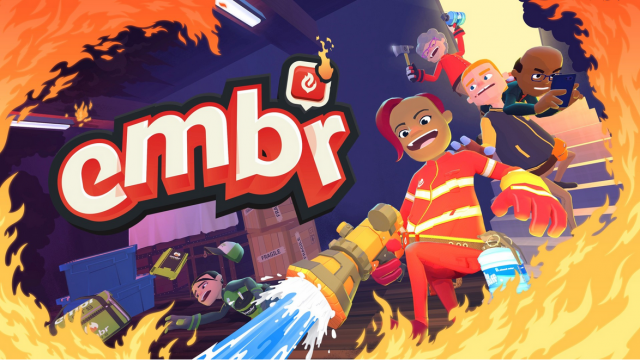 Frenetic Firefighting Multiplayer 'Embr' Launches on GamePass Today as Brand New & Free 'Secret Hosr' Update Makes Debut
Multiplayer Madness Challenges Players to Smoke Out Secret Agents!
London, UK - Thursday January 6th, 2022 - Wannabe firefighters, unravel your garden hose: Embr is coming to GamePass for Xbox today!
GamePass subscribers can start their new careers as fire fighters right now, joining forces with up to 4 players, or striking off on their own. Head off to fight frantic fires, enjoy the crazy cooperative multiplayer, and rescue residents by throwing them to safety. If they miss the trampoline, well - there's always another burning building to save!
What's more, the world of Embr is also about to get bigger for those homemade heroes who have been dousing the flames over the course of the last year. Rolling out today, the brand new 'Secret Hosr' multiplayer mode throws four Respondrs into even longer missions, with more clients, and dangerous explosives ticking down to destruction in need of disposal.


But there's more to Secret Hosr than meets the eye. For the first time, you'll be working against one of your teammates. A Hosr Agent has infiltrated your mission, and is working to undermine your mission. You'll have to keep your clients safe, the building secure, and the bombs defused. If you think you've figured out who's the saboteur amongst you, use your one time report to vote them out. But was that bomb detonation really intentional, or just a slip of the hands? Was that client murdered, or did they accidentally miss the trampoline?  Can you spot innocent mistakes from intentional sabotage?
PlayStation, Xbox and Nintendo Switch owners will find the new 'Secret Hosr' mode pops up in play automatically after an update, while Steam owners can also pick it up for free by downloading the dedicated DLC from the Steam client.
"Just when you think things couldn't get more fast and frenzied, suddenly Secret Hosr drops," says Howard Tsao, Team Lead at Muse Games. "We can't wait to see how players work as a team to defuse bombs planted by rival corporate spies, and to see the carnage that arises when players start pointing the finger at each other as the potential 'Sabotr'. It's the next step in Embr's evolution, and we're excited to welcome the millions of players on GamePass to the party as well."
Embr is designed for PS4 and Xbox One, but will run perfectly on PS5 and Series X|S. The game is available on PC, PlayStation, Xbox, and Nintendo Switch for £17.99/€19.99/$19.99 or for free on GamePass, and features crossplay compatibility between the PC, PlayStation, and Xbox versions.