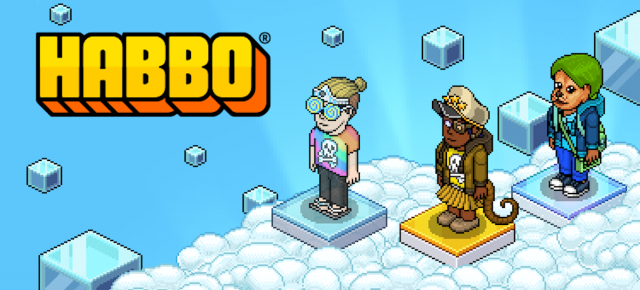 Sulake donates 1000 free NFTs to the Habbo community
Habbo Hotel players will have the opportunity to possess
a unique piece of art
Helsinki, FI -- November 25th, 2021 -- Sulake, part of the digital entertainment and media platform Azerion, announced today that they are giving away 1000 Habbo Avatars for free to the wider Habbo community to share the success of the project with the fanbase that make the game what it is. These randomly generated Avatars are part of a collection consisting of more than 10,000 NFTs Sulake launched in September, which sold out in 26 hours, allowing fans and digital collectors to purchase and wholly own as part of their portfolios. As well as thanking the longstanding Habbo community, this giveaway also aims to make the Habbo Avatars collection more inclusive by expanding the owner base.
With many of the rarest items in this collection included as part of the giveaway, the community could end up owning a truly unique piece of art. Based on the value of the Habbo Avatars from the previous drop, this giveaway is easily valued at over €1 million euros (based on the current floor price, subject to change), for which Sulake will be covering all of the gas fees.
"As players of the premier trading game, we know that Habbo players understand the value of digital assets," said Valtteri Karu, CEO of Sulake. "Given the success of Habbo Avatars collection, we wanted to make sure that members of our community had the opportunity to take part in Habbo's newest venture. This giveaway is just another way for us to thank our community for supporting us for so many years."
In order to receive one of these Avatars, players must be over the age of 18, submit a valid Ethereum wallet address and have a Habbo account created before January 1st 2020 with over 100 hours of activity from January 1st 2021 until September 24th 2021. These measures guarantee that only registered Habbo players and existing members of the community will be able to take part in this giveaway. Players can enter the giveaway by completing an in game poll that will be open for a week starting on Friday 3rd December.
About Habbo and Sulake
Sulake is a social entertainment company focused on providing a safe and fun online service for self-expression through its games, Habbo and Hotel Hideaway. Sulake was founded in 2000 by a small team of passionate people and now after 21 years, Habbo is still one of the largest virtual communities in the world, reaching players all over the world each month. With paying customers in over 115 countries and over 850,000 active users a month, Habbo continues to be a hugely popular and globally recognised brand.

Sulake's mission is to enable its users to meet new people, make friends and give them a place to create and share their user-generated content in fun virtual surroundings. Sulake is a leader in ensuring online safety for children and was acquired in 2020 by Dutch digital entertainment and media platform Azerion. www.sulake.com