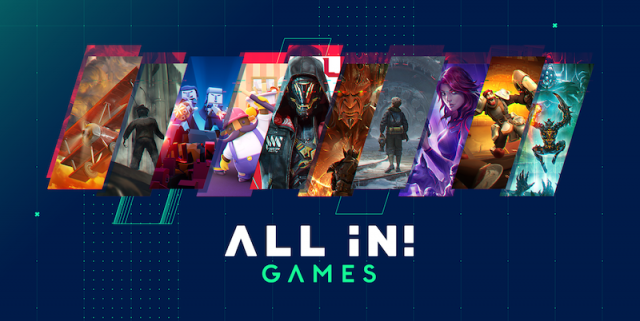 All in! Games Celebrates 3rd Anniversary, Announces $15M War Chest for 3 Major Products in 2022
Publisher celebrates 2 million units sold with 2022 strategy eyeing up more expansion and partnerships to aid further growth

Krakow, Poland - November 23rd, 2021 - Chernobylite publisher All in! Games is celebrating its third anniversary. In just over three years of publishing operations, the company has generated a total budget of over 50M PLN / $12M USD. The company is also celebrating the milestone of a million video game copies sold within one year, bringing the total number of games sold since it was founded to 2 million.

"At the end of 2018, when we were celebrating the official launch of our business activity as a video game publisher at the Allintroduction Gala, we banked on breaking through in the industry quickly, but we didn't expect the pace of our growth to be so dynamic," said Piotr Żygadło, All in! Games CEO. "Within the last 3 years we've managed to achieve a lot—we entered the GPW Main Market and have published 3 big titles that have each sold hundreds of thousands of copies, resulting in our revenue being higher than that of much older companies in the industry."
Part of All in! Games' success is its range of product diversity, which it has plans to maintain as their team is actively working on over 20 projects. Today the company has 17 published games and 17 DLCs. The number of wishlists on Steam for All in! Games' titles have also grown strongly, rising to 3.6 million collectively. Few publicly traded companies in the video game industry could boast similarly robust results at the beginning of their business activity and within such a short period of time.


The growth of All in! Games' portfolio is accompanied by the rapid growth of their team. Today, the team is made up of over 100 employees with experts not only from Poland, but also from Great Britain, Spain, the USA, Lithuania, and Italy. They specialize in publishing games on 9 digital distribution channels as well as 2 physical channels, and the titles they've worked on have already won over 10 awards. Among them is the Best Polish Game of 2020 for Ghostrunner.
Celebrating its rising position in the industry, on the back of it's recent publishing successes, All in! Games is looking at maintaining that momentum going into 2022 and beyond. Games like Ghostrunner and Chernobylite helped raise awareness for All in! Games to become a more recognizable brand. This brand building has also made acquiring new partners and the discussions that go along with that a much easier task. Today All in! Games is working with over 20 companies with that number set to rise in 2022. All in! Games is also developing its own group of companies, which now includes 3 entities with more planned.
Outlining its strategy ahead, the company will have begun 3 new projects by the end of 2022, with a budget of 20M PLN, almost $5M USD, each. Furthermore, by the end of 2023, All in! Games will have developed its group of publicly traded companies to consist of 10 subsidiaries, including special purpose vehicles, servicing companies, and development companies. Another aspect of the company's overall strategy is to create a one-stop shop for developers. All in! Games wants to provide solutions for game developers, assisting in quality control and optimizing both costs and time which will allow developers to focus entirely on creating their titles while All in! Games manages all publishing and marketing processes.