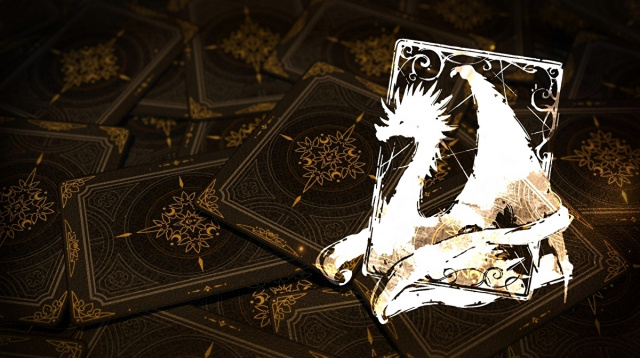 SQUARE ENIX TEASES
VOICE OF CARDS: THE ISLE DRAGON ROARS,
A NEW RPG BUILT OF CARDS
The Creators of NieR and Drakengard Series
Bring Your Imagination to Life in An All-New Card-Based RPG
 

LOS ANGELES (Sept. 9, 2021) – SQUARE ENIX® today teased Voice of Cards: The Isle Dragon Roars, a unique RPG title which presents an enchanting story completely depicted by cards. Developed by the creative minds behind the beloved NieR™ and Drakengard® series, including Creative Director, YOKO TARO (Drakengard series, NieR series), Executive Director, Yosuke Saito (NieR series) and Music Director, Keiichi Okabe (Drakengard 3, NieR series), as well as Character Designer, Kimihiko Fujisaka (Drakengard series,) this new title will spark players imagination and open their minds to a different way of storytelling as the narrative unfolds.

More information about the title will be available at a later date.
 
Related Links
SQUARE ENIX Twitter: http://www.twitter.com/SquareEnix

SQUARE ENIX Facebook: http://www.facebook.com/SquareEnix
#VoiceOfCards
 

About Square Enix, Inc.
Square Enix, Inc. develops, publishes, distributes and licenses SQUARE ENIX®, EIDOS® and TAITO® branded entertainment content throughout the Americas as part of the Square Enix group of companies. Square Enix, Inc. is affiliated with a global network of leading development studios such as Crystal Dynamics® and Eidos Montréal™. The Square Enix group of companies boasts a valuable portfolio of intellectual property including: FINAL FANTASY®, which has sold over 163 million units worldwide; DRAGON QUEST®, which has sold over 83 million units worldwide; TOMB RAIDER®, which has sold over 84 million units worldwide; and the legendary SPACE INVADERS®. Square Enix, Inc. is a U.S.-based, wholly owned subsidiary of Square Enix Holdings Co., Ltd.
 
More information on Square Enix, Inc. can be found at https://square-enix-games.com.