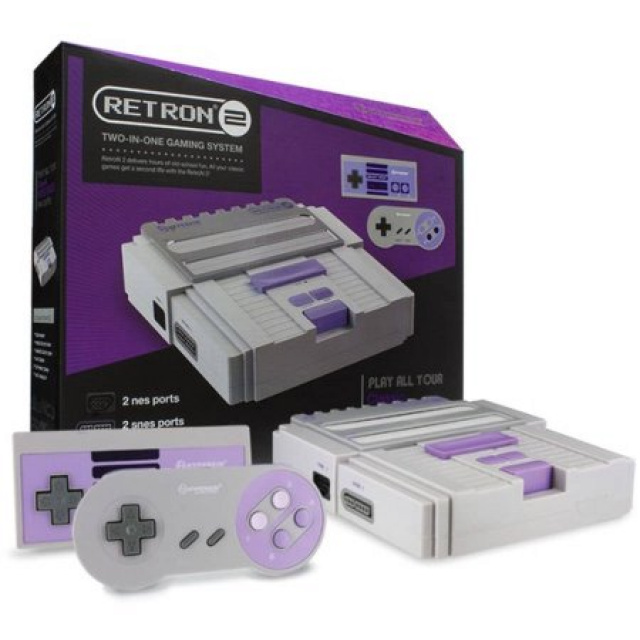 How has no one told me about this before?? I blame the schools and all of you. If you've been on a constant hunt for the SNES Classic, you might wanna knock it off, because this is probably going to make you feel kinda dumb. This machine plays all your old NES and SNES cartridges, and you won't have to hunt high and low or spend a ton of money in an online bidding war to get one. Although some reviewers claim that the system feels flimsy, it's hard to take the tradeoff for the SNES Classic, because the Retron 2 just does so much more.

The SNES Classic has a cool look and plays 21 games, which are pre-loaded, so you don't need any cartridges, which is a nice feature for those of us who have no games. However, I feel like most of us who are interested in one of these machines already have some old SNES and NES games lying around, so for a lot of us, the 21 preloaded games are more of a hindrance than a help. Don't get me wrong, the 21 game cataloge has some bonafide hits that may be tough to find if you don't already have them, like Chrono Trigger and Earth Bound, so you gotta factor in what you are trying to play. Depending on if you care about NES games and how many of each type of game you have, your mileage may vary on the Retron; if you have no games, it might be more of a pain in the ass to collect them from Ebay or second hand shops than it would be to just accept the 21 game limitation and get the SNES Classic.


When you can find it, the SNES Classic costs just under a hundred bucks and comes with the following games:
Contra III: The Alien Wars
Donkey Kong Country
Kirby Super Star
Kirby's Dream Course
Secret of Mana
Street Fighter II Turbo: Hyper Fighting
Super Mario Kart
Super Mario World
Final Fantasy III
Super Castlevania IV
EarthBound
F-ZERO
Mega Man X
Star Fox
Star Fox 2
Super Ghouls 'n Ghosts
Super Mario RPG: Legend of the Seven Stars
Super Metroid
Super Punch-Out!!
The Legend of Zelda: A Link to the Past
Yoshi's Island 
That's a pretty stellar list. However, for less than half the price ($43.90) you can get the Retron, which comes with no games, but it does have the ability to play SNES and NES games on one system. That's right; it plays all your SNES and NES games. All of them. That alone makes it seem like a fool's bet to go for the SNES Classic.

What do you think? Does anyone own either of these? Did you get bored of the SNES classic quickly or are you still loving it? Lemme know in the comments.