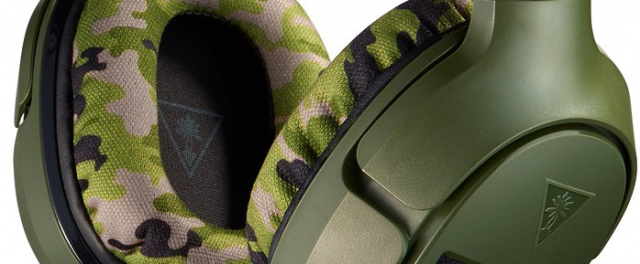 From Turtle Beach:
Leading gaming headset and audio accessory brand Turtle Beach Corporation (NASDAQ: HEAR) today unveiled the new Recon Camo multiplatform gaming headset for Xbox One, PlayStation 4 and PC. Additionally, the Recon Camo's standard 3.5mm connection makes it great for using with PC, Mac and mobile/tablet devices. With films like Dunkirk and the upcoming Call of Duty: World War II video game on the horizon, clearly a collective fascination for World War II has re-emerged, and the Recon Camo deftly incorporates the style of the era with its evocative camouflage and military green design. Not only does the Recon Camo look great, but it sounds amazing and produces richer, louder and more precise game audio thanks to its large, high-quality 50mm speakers with over 50% more surface area compared to the 40mm drivers found in other similarly priced headsets. The Recon Camo is built on one of Turtle Beach's fan-favorite designs with a comfortable yet durable frame, and features Turtle Beach's renowned high-sensitivity mic to deliver the essential crystal clear chat needed to secure victory on the multiplayer battlefield. The Recon Camo will be available this fall at participating retailers for a MSRP of $69.95.

"It's clear gamers are excited to return to the WWII theatres of war in Europe and the Pacific, so we set out to deliver a high-quality gaming headset with the look and feel to match that passion," said Juergen Stark, CEO, Turtle Beach. "The Recon Camo headset is a great looking headset with a style that matches their favorite game, with amazing game and chat audio that clearly helps to secure victories, and ultimate comfort for those long gaming sessions."

Full details on Turtle Beach's new Recon Camo multiplatform gaming headset include:
Rugged, Comfortable Design – The Recon Camo has a thick, rugged and robust frame with a breathable fabric-wrapped headband and matching ear cushions that allow you to play for hours in complete comfort.
Surround Sound Ready for Xbox One – The Recon Camo is surround sound ready for Windows Sonic for Headphones on Xbox One so you can experience your games, movies and music with deeper immersion.
Large 50mm Speakers – Hear every crisp high and thundering low with these large, high-quality 50mm over-ear speakers. With 56% more surface area than 40mm drivers, you get deeper, more immersive sound that is clearer and louder.
Crystal Clear Chat – Turtle Beach's renowned high-sensitivity mic picks up your voice loud and clear, and can be removed when watching movies or listening to music.
Convenient In-line Controls – Convenient in-line controls place Master Volume and Mic Mute right at your fingertips.
Versatile Compatibility – Will work great with Xbox One and PS4 controllers with a 3.5mm jack, as well as with PC, Mac and mobile/tablet devices with a 3.5mm connection. Other Xbox One controllers require the Headset Audio Adaptor (sold separately).
For more information on the latest Turtle Beach gaming headsets and audio accessories, visit www.turtlebeach.com, and be sure to follow Turtle Beach on Facebook, Twitter and Instagram.