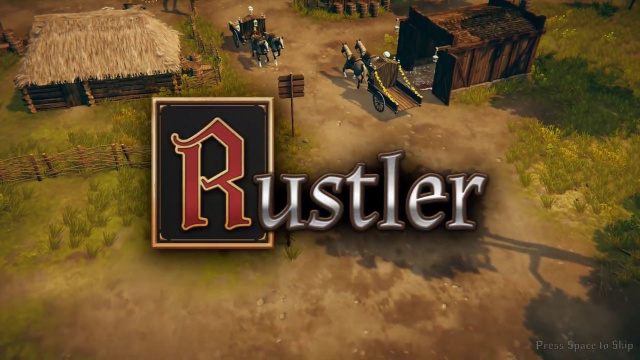 After a successful Kickstarter and over 150% of the initial goal reached for Rustler, a FREE PROLOGUE is in the works, available soon on Steam!
 
Rustler
has been fully funded and reached additional stretch goals. Our character, Guy, will gain a new set of skills and perks, and the universe has been expanded to include ten extra side quests and three minigames. To celebrate that, the developers from Jutsu Games alongside their publisher, Games Operators, are publicly distributing a free prologue, available soon on Steam.
RUSTLER: PROLOGUE:

Rustler: Prologue is a narrative introduction to the full version of Rustler. It's a short, standalone game with its own beginning and end. Play as a poor peasant and climb up the ranks of the feudal hierarchy.

RUSTLER: PROLOGUE MAIN FEATURES:
Get a glimpse of the absurd story;

Train yourself in combat to prepare for fighting in the full game;

Forget all your history knowledge and dive into times that never existed;

Try to pick up all the pop culture references;

Ride ultra-fast horses;

Throw poop at guards.


ABOUT RUSTLER

Rustler is an open-world, top-down action game that pays tribute to the classic GTA 2 style and gameplay, fusing it with a historically inaccurate medieval setting. Play as Guy, whose parents were too lazy to give him a proper name. Experience feudal injustice, witch-hunting, and join massive tournaments. Meet valiant yet incredibly stupid knights. Complete a wide variety of twisted missions and quests, or ignore the main story and bring mayhem to villages and cities. Travel on foot or steal a horse; fight with a sword or choose a fancy automatic crossbow. All that and more awaits, peppered with inappropriate, Monty Python-inspired humor.


Be a bold, bald thug in a medieval sandbox



The world of Rustler is filled with humor, anachronisms, and pop culture references. Remember Monty Python? Ever been towed for parking in a "NO HORSE ZONE"? Speaking of horses – what if they were treated like Pokémon?



Wreak havoc with top-down, old-school combat



Use swords, spears, turds, and crossbows. Not efficient enough? Try a holy hand grenade or your horse. Nothing's deadlier than a galloping set of hooves.




Screw everyone over to win half the kingdom



As a poor peasant, you'll need to get creative to win the Great Tournament™. Form unusual alliances, double-cross your foes, and dig for dinosaur bones in a light, easy-to-understand but hard-to-empathize-with story.



Hire bards to aid you musically in battle



A bard is your sweaty personal radio. He'll never leave your side, even amidst the bloodiest of conflicts, and he'll change the song's dynamics depending on the action. Or, if the tune isn't to your liking, make him change it by punching him in the face.



A lot of horsin' around



Shoot cows into the sky, dress up as a guard or even Death, smoke weed accidentally, draw elaborate shapes with a plow, or survive a fully-armed retaliation after killing half the city. Those are just some of the crazy things you can do in Rustler.






Rustler

is still in development, and its release date will be announced shortly. The game will launch its free prologue, available soon on Steam.

More information about the game can be found on the game's

Steam page

,

Facebook

, and the publisher's

Twitter

profile.