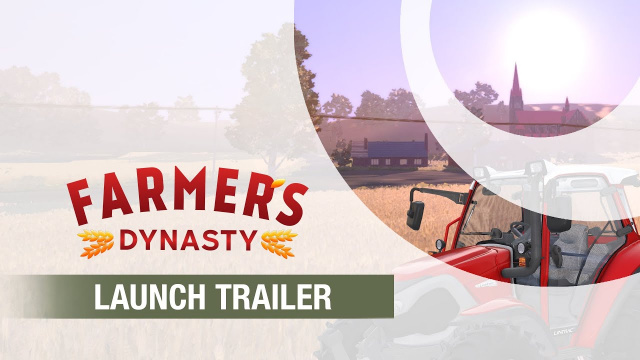 Farmer's Dynasty
 now available!
Experience the authentic farmer's life with Farmer's Dynasty, available today for Xbox One and PlayStation®4
Bigben and Toplitz Productions studio are pleased to announce that Farmer's Dynasty is now available on Xbox One and PlayStation®4. Have you dreamed for years of living in the country? You can with Farmer's Dynasty: get back to nature and become a farmer!
Start with simple farming tools and grow quickly from there through deep gameplay: build, repair and harvest. Improve your yield by acquiring new agricultural facilities like greenhouses and silos on your way to becoming one of the top farmers in the village.

The social aspect is a major part of the game. At the end of your working day, take part in village events to unwind and develop your social life. Meet your neighbours and spend time with them. These interactions could lead to a romantic relationship and family life in the countryside.

- Live a farmer's life: build your farm, start a family and cultivate your fields.

- Play a unique blend of farm simulator, life simulator and management.


- Build, repair and expand your farm to match your vision.

- Experience the freedom to go anywhere you want in an open world in the country.

- Help your neighbors in different missions and earn social points.

- A realistic simulation: learn how to use different farming machines and manage cycles to optimize crop yields.

Farmer's Dynasty is now available for Xbox One and PlayStation®4. The game will be launched later on Nintendo Switch™.
Find us on

Twitter

and

YouTube

.