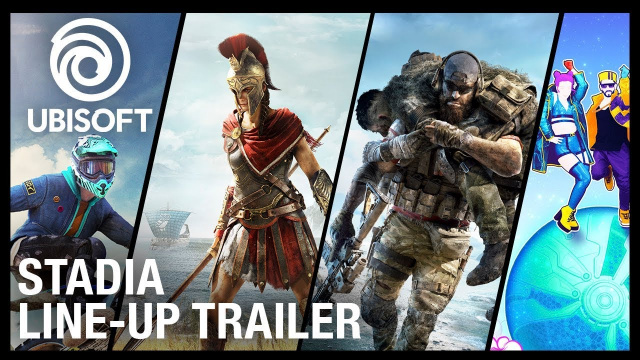 UBISOFT GAMES LAUNCH ON STADIA
Assassin's Creed® Odyssey, Trials® Rising and Just Dance® 2020 Are Available Now on Stadia
Assassin's Creed® Odyssey, Trials® Rising and Just Dance® 2020 are now available on Stadia, the new generation gaming platform. More information on purchasing these games on Stadia can be found at Stadia.com.
Ubisoft games available on Stadia today include:
Assassin's Creed Odyssey — The Stadia Standard Edition is packed with content, including a bonus mission, The Blind King, and the Kronos Gear Pack, featuring an epic gear set, mount and spear. Additionally, the Stadia Ultimate Edition, containing the base game, Season Pass and Deluxe Pack, which includes gear packs, naval pack and XP and Drachmae boosts and Season Pass are available for players to explore both episodic DLCs: Legacy of the First Blade and The Fate of Atlantis.

Trials Rising — The newest iteration of the gripping Trials motorcycle platform series is available as the Standard Edition, which includes the base game, and the Gold Edition, which offers over 180 tracks to ride around the world, including the base game and two expansions: Sixty Six – Expansion I and Crash & Sunburn Expansion – II, two Customization Packs, fun bikes and more.

Just Dance 2020 — The ultimate dance game is back with 40 new tracks, from chart-topping hits like "bad guy" by Billie Eilish, "Kill This Love" by BLACKPINK, "Old Town Road (Remix)" by Lil Nas X Ft. Billy Ray Cyrus and more. Keep the party going for hours with songs for the whole family to enjoy. Players also have access to over 500+ more songs with a free one-month trial of Just Dance Unlimited, the dance-on-demand streaming service.
"Ubisoft has always been a pioneer on new technologies and streaming is no exception," said Chris Early, SVP, Partnerships and Revenue. "We believe in the potential of cloud technologies and with new streaming services such as Stadia, we can reach new audiences and enable more people to play our games, like Assassin's Creed Odyssey, Trials Rising and Just Dance 2020. These technologies open the possibility for our developers to create even more immersive and social experiences."
Additional Ubisoft games will be available on Stadia during the platform's launch window, including Tom Clancy's Ghost Recon® Breakpoint, Tom Clancy's The Division® 2 and The Crew® 2. UPLAY+, Ubisoft's new subscription service,* will launch on Stadia in 2020.