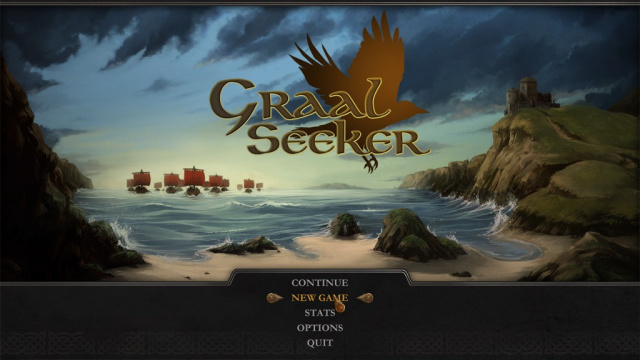 The independent studio Lugludum is pleased to unveal the description and history of their narrative RPG game Graal Seeker. To succeed in his quest for the Grail, the adventurer will have to explore medieval Britain, choose his path, and survive fast tactical battles. With the help of the agency Events For Games, the studio is preparing a crowdfunding campaign scheduled for 16th of September.

Subscribe to the newsletter to get updates about Graal Seeker: graalseeker.com/newsletter

Game Description:

Graal Seeker is an RPG with fast tactical battles. You are an unknown adventurer seeking for the Graal in medieval Britain during Saxon invasions. Find your Graal based on the choices you make. Build a team and choose how to evolve your character.

There are three phases in Graal Seeker: exploration, event management and battle. All these phases are repeated until you find the Graal or die. The exploration phase allows you to choose where to go in a procedurally generated map. Would you rather tread a long, calm road or take a shortcut and face potential obstacles? Different events happen according to your location (castle, village, forest ...) and your previous choices. Will the local lord welcome you? If not, how will you react? And finally, battles bring you in a fast combat with a tactical dimension where you must complete various objectives. But be careful not to die, because there is permanent death!


History:

The Graal, object of myths and mysteries, can take several forms depending on the traditions, a chalice, a cauldron, or even an emerald, and is coveted by all for its magical powers. But what is it really?

In Graal Seeker, you are an adventurer from the 5th century seeking this precious relic. In this quest, you will also have the opportunity to attend Arthur's court in his fight against Saxons and his quest for a more fair law. Besides, is the recent Saxon invasion related to the presence of the Holy Graal on British land, or is it merely a territory conquest? From Celtic origins to the Christian's or esoteric texts, the quest for the Graal is a true initiatory and introspective quest matching with the whole player's game experience. So, it is the player who makes the story!

Key Features:
Unique stories based on the Matter of Britain.
Find Your Graal based on the choices you make.
Narrative game inspired by the Choose Your Own Adventure book.
Fast real time tactical battles.
Procedurally generated events and maps.
Permanent death and persistent world.
Moddability, create and share you own Graal stories.