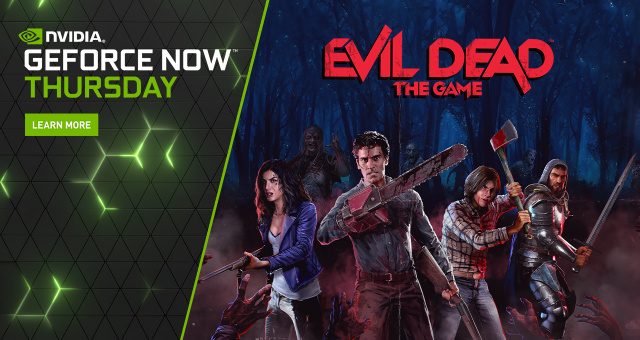 GFN-Thursday beschwört sein 1.300stes Spiel "Evil Dead: The Game" + sieben weitere Titel herauf

Kettensägen bereit gehalten: An diesem GFN-Thursday gibt es mit Evil Dead: The Game, das auf GeForce NOW gestreamt wird, ein schaurig-schönes Vergnügen. Es ist das 13-hundertste verfügbare Spiel auf GFN und wird ausgerechnet am Freitag, den 13. veröffentlicht.
Ob auf einem Mac oder einem Mobiltelefon, GFN-Mitglieder können auf fast jedem Gerät an der überdrehten Koop- und PVP-Action teilnehmen. Als Bonus für RTX-3080-Mitglieder wird der Horror mit realistischer Grafik und einem Physik basierten Gore-System zum Leben erweckt, verbessert durch NVIDIA DLSS - und das in 4K-Auflösung. 
Für alle, die an diesem Wochenende nicht auf Gruselspaß aus sind, gibt es mit diesen insgesamt acht neuen Spielen dieser Woche Gaming-Spaß anderer Art: