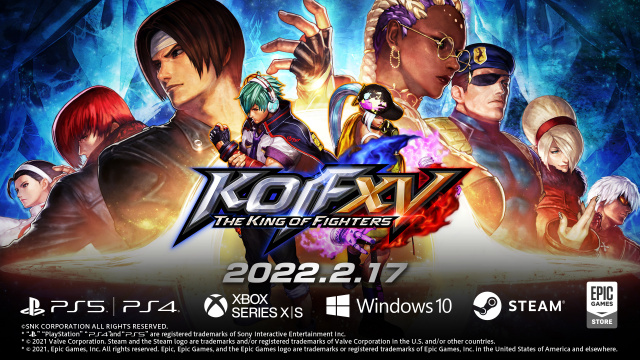 Die haut richtig rein!
SNK kündigt Omega-Edition von THE KING OF FIGHTERS XV an
Die umfangreiche Collector's Edition ist ein Muss für alle Fans der Reihe

SNK Corporation, die Macher des kommenden THE KING OF FIGHTERS XV (KOF XV), kündigen heute die umfangreiche OMEGA-Edition für PlayStation 5, PlayStation 4 und Xbox Series X|S an, die zum Launch des Titels am 17. Februar erscheint.
KOF XV bietet insgesamt 39 Charaktere, darunter beliebte klassische Charaktere und wiederauferstandene Fan-Lieblinge. Zusätzlich zum klassischen 3-gegen-3-Teamkampfsystem führt das Spiel den SHATTER STRIKE ein, eine neue Mechanik um gegnerische Angriffe zu kontern. Darüber hinaus können die Spieler einen verbesserten MAX-Modus sowie den MAX-Modus (Quick) erleben und die neue RUSH-Funktion ermöglicht es, Combos nur durch schnelles Drücken von Angriffstasten auszuführen. All diese Funktionen, einschließlich überarbeiteter und rasanter Special Moves, sorgen dafür, dass sich die Kämpfe noch explosiver anfühlen als je zuvor.
Die OMEGA-Edition ist ein absolutes Muss für jeden THE KING OF FIGHTERS-Fan! Sie enthält einige exklusive Inhalte, sowohl digital als auch physisch, und richtet sich an langjährige Kenner der Serie und Sammler gleichermaßen.
Die OMEGA-Edition enthält:
- Hauptspiel
THE KING OF FIGHTERS XV
- Team Pass 1 (Team DLC 1 & Team DLC 2)
- Terry "Garou: MotW" DLC-Kostüm
- Leona "Classic Leona" DLC-Kostüm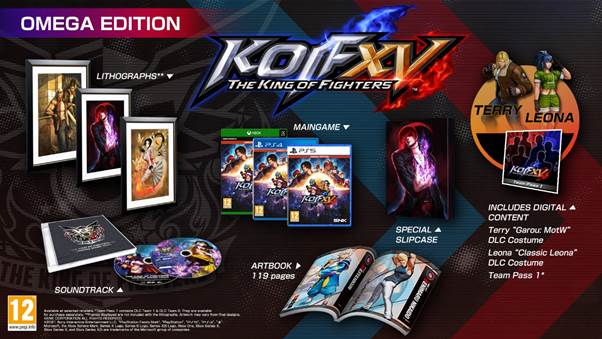 THE KING OF FIGHTERS XV erscheint am 17. Februar 2022 für PlayStation 5, PlayStation 4, Xbox Series X|S, Windows 10, auf Steam und im Epic Store.
PRODUKT DETAILS
Titel: THE KING OF FIGHTERS XV
Plattformen: PlayStation 5, PlayStation 4, Xbox Series X|S, Windows 10, Steam, Epic Store
Genre: Versus Fighting
Entwickler: SNK Corporation
Spieler: 1-2 lokal / 2-8 online

Co-Publisher: Koch Media
Erscheinungsdatum: 17. Februar 2022
Webseite: https://www.snk-corp.co.jp/us/games/kof-xv